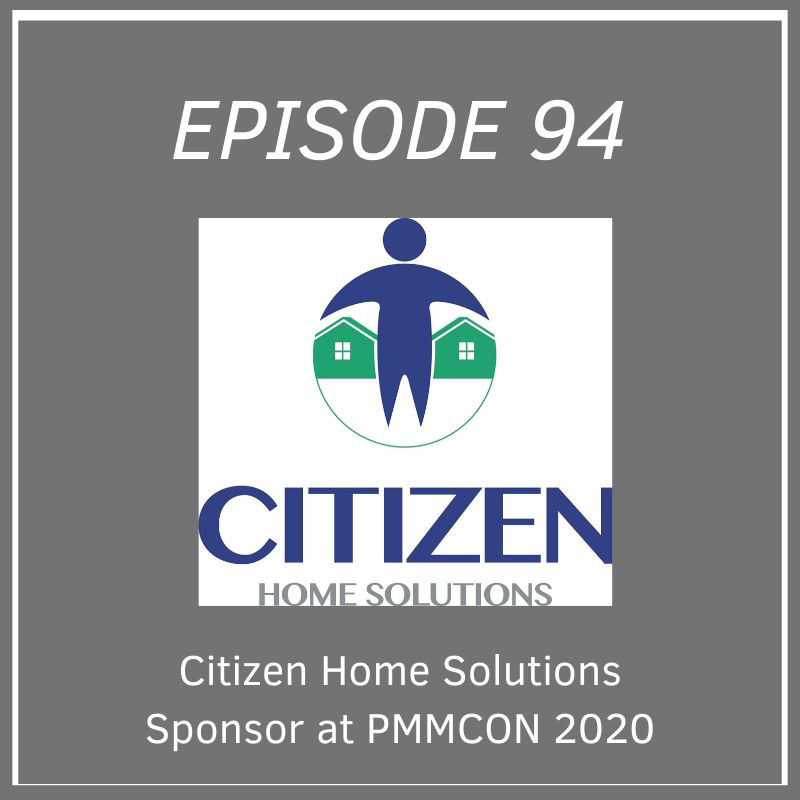 We all know how expensive and stressful moving can be for new tenants. A great property manager helps make the experience as easy as possible for a new tenant. The service from Citizen Home Solutions is a great value add for property managers. It saves the tenants time and money and can bring in extra revenue through commissions and incentives.
I partner with Citizen Home Solutions with my property management company Rentwerx. In fact, I was their third customer, and if I had to do it all over again I would. I am joined today by Wes Owens, the owner and co-founder, along with Peter Hernandez the VP of Sales and Marketing. Business Development Manager Drea Hespen is also here to talk about all of the exciting opportunities that Citizen Home Solutions has to offer.
CHS is also a sponsor of PMMCON 2020. This is a property management mastermind conference in Las Vegas on March 2nd through 4th. It's going to be an exciting and informative event. The group from CHS talks about the growth that they are experiencing and the many benefits that they offer for tenants and property managers.
Their service saves tenants time and headaches. It also saves time for property managers and generates extra cash.
If you offer a tenant benefit package, this is a great free amenity. It also saves you the time of having to follow up with tenants to make sure utilities have been transferred to their names. We also talk about some of our recent Peloton purchases and our PM Health Group on Facebook. We even talk about our upcoming Mastermind Marathon!
Show Notes
[02:51] My company Rentwerx was the third customer of Citizen Home Solutions. If I had to do it all over again I would.
[03:10] I'm excited to have these guys as partners. Their service is phenomenal.
[03:16] Drea is the business development manager.
[03:28] Peter is the vice president of the company.
[03:34] Wes is the co-founder and owner.
[04:10] Get $500 off of PMMCON through the end of the week with CHS discount.
[04:51] CHS has had a lot of growth. They started with three employees and now they have 29 employees. They are signing on a lot of national companies.
[05:56] CHS does front line sales for utilities. They set up all of the utilities and create value for the new tenants while getting rebates for the property management company. It's about commissions from the big players. Everybody wins.
[06:48] Tenants think it is the best moving experience.
[07:07] When the property manager gives tenants this free service, they love it because it cuts down on time they have to spend calling multiple utility services.
[08:23] At the end of a discount contract, you can switch names in the household and get those discounts again.
[09:01] The value add is that they set up the utilities. They also find out what providers service that specific address. It saves time and trips that the tenant would have to make.
[11:14] Benefits for property management companies is that there is no contract to sign. It also becomes part of the residence benefit package.
[12:21] In some areas you have to visit the utility in person.
[13:24] Another benefit for property managers is that tenants often lose the information you give them and will end up calling your office for help anyway. This eliminates that from happening.
[14:04] They have a customer experience department for property managers.
[15:51] Citizen Home Solutions reaches out to the residents for you.
[16:21] It also prevents tenants from not transferring the utilities to their name. CHS makes sure everything gets done.
[17:01] A tenant benefit package is a list of amenities that a tenant gets and pays for. It can start with insurance and free utility setup.
[19:24] The service is 100% free for the tenant and property manager.
[20:02] Property managers can make five figures a quarter through the service.
[20:42] Pete is the number one customer of Citizen Home Solution.
[22:12] They have a health group about exercise, being active, and healthy eating. Different property managers also wanted to join in and now they have a Facebook group.
[29:15] There is something for everyone in this motivating group. They are also having their second 5k event coming up.
[30:52] The Mastermind Marathon is going to be in Savannah on November 7th.
Links and Resources:
Property Management Mastermind
Property Management Mastermind Group on Facebook
(619) 988-6708 (Allison DiSarro from Seacoast Commerce Bank)
#26 Allison Disarro from Seacoast Commerce Bank – Finally A Bank That Gets Property Management!
(918) 728 8992 (Derek Scott with Insurance Management Group)
For the Property Management Mastermind Conference information https://pmmcon.com/