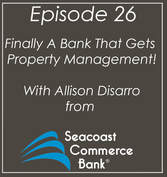 Today's show is sponsored by LeadSimple and Fourandahalf. Together, they've come up with one of the best conferences for property managers, called the PM Grow Summit. This event is laser-focused on growth strategies and brings together some remarkable thought leaders from around the country. I attended last year and was thoroughly impressed all around -- and that was just their first year! The next conference will be in San Diego in 2018, and I've already booked my spot. Go to pmgrowsummit.com to learn more, and enter promo code "Brad" to get a $100 discount on your ticket!
We're also sponsored by Marc Cunningham of Grace Property Management. Marc has created some amazing products for property management companies, which we can say firsthand as we've implemented his systems here. Visit their website and try out their products! To get a 10% discount on any of Marc's products, use the promo code "Brad"!
Before we dive into this week's episode, I want to take a moment to talk about the recent NARPM National Convention that took place in Orlando, Florida in October 2017. This episode was actually recorded there, and the event is still fresh in my mind. Overall, my family and I had a great time! The weather was fantastic, as were Disney World and golfing!
The conference itself was good too, but a few things bothered me there. As a result, I plan to offer a bit more commentary on the state of the property management and the trade organizations around it in future episodes of this podcast. I want you to be aware of what's going on so you can make a fully informed decision on how you want to proceed with booking (or not booking) some of these conferences.
This week's episode features the brilliant Allison DiSarro from Seacoast Commerce Bank. After hearing what she could offer, we've decided to switch banks. Our current bank isn't bad by any means, and we weren't necessarily looking for a new banking solution, but what Seacoast offers is so phenomenal that we just couldn't resist switching.
If you're familiar with this podcast, you know that we tend to speak to people in the property management industry. This interview goes a bit further outside those lines, but is absolutely relevant to all property managers, even those in the four states where Seacoast doesn't operate. Allison specializes in property management banking, and in this episode I'll ask her all sorts of questions about banking as it relates specifically to property management. Tune in to learn more!
Here's where you can find Allison: