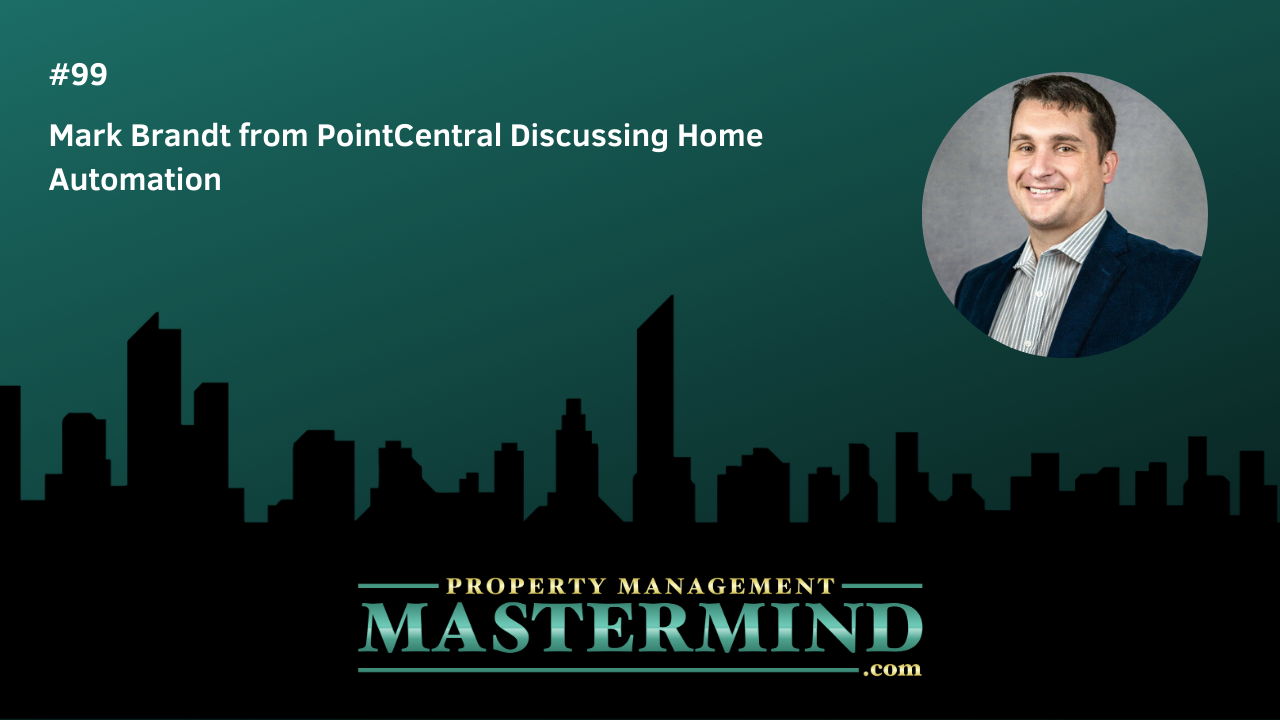 What do you know about home automation? Listen as Brad and his guest Mark Brandt discuss what PointCentral home automation can do for your business, and the benefits to tenants, property owners, and property management. They also speak about the decreasing cost of initial entry and much more on this episode of The Property Management Mastermind Show.
Mark describes what home automation is and how it is beneficial to homeowners and property managers. Brad speaks about having Alarm.com his PointCentral system and what options he chose for the new house he bought, like the doorbell camera and the automatic locks.
Listen, as Mark shares how this system runs off your cellular network, not wifi, so if the house is vacant, you can still control the system. He discusses the benefits to the owners and tenants and how to sell the features to both.
Mark shares some features like water sensors that alert you if there is a water leak. Automatic thermostats that you can control on your phone to set temperatures in vacant homes and keyless locks that need not be re-keyed; you just change the code. These are only a few of the features that PointCentral offers to make your homes more enticing to millennial renters.
Marks speaks about the initial cost of setup, the monthly fees, and how you can get the owners on board. If you have questions or want to get in touch with Mark, you can email him at markbrandt@pointcentral.com or go to the PointCentral website for more information. There will also be a video released in the next few weeks that will show you all the features that Mark has been discussing.
Show Notes
[02:43] Welcome to the show, Mark!
[02:52] Mark shares a little about himself and his career.
[04:55] Marks discusses what home automation is and how it's beneficial to you.
[07:03] Brad shares the installation of PointCentral in his new home.
[09:58] They discuss the doorbell sensor that shows who has been at the front door.
[11:09] Mark says that PointCentral has the property management focused solution for Alarm.com.
[12:40] Mark speaks about how their system runs off cellular service instead of wifi.
[15:08] The important things that property management owners are looking for with this system are locks, thermostats, and water sensors.
[18:47] Mark describes their unattended showing platform.
[20:02] Property managers want access to management locks, which is a big win for their companies.
[21:48] Mark speaks about the tenant having an app to control their smart home.
[24:00] Mark shares the basic management packages that PointCentral offers.
[26:16] Mark chats about how the automatic thermostats can be adjusted by the management company to save utility costs while homes are vacant.
[27:50] Mark shares about the analytics of the thermostats.
[29:26] The water sensor for pipes or water heaters is excellent for vacant properties so you can be on top of water leaks.
[33:37] What are the installation costs and costs per month?
[36:04] Mark talks about the live customer support that PointCentral offers.
[38:14] Brad shares how he would market this to the tenant and owner.
[40:45] Mark gives a real case example of how home automation has helped with renting homes.
[43:05] How do you recommend getting the owner to put the money down for the initial hardware set up?
[46:07] Brad shares some ideas he thought of to get the owners on board.
[47:58] Mark shares his email address so you can shoot him an email if you want more information at markbrandt@pointcentral.com.
[49:33] Mark talks about some quick fixes that are out there, but this system will allow you to grow in the long term.
[50:48] Thank you so much for being on the show, Mark!
Links and Resources:
Property Management Mastermind
Property Management Mastermind Group on Facebook
adisarro@sccombank.com
(619) 988-6708 (Allison DiSarro from Seacoast Commerce Bank)
NARPM Southern States Conference
National Apartment Association