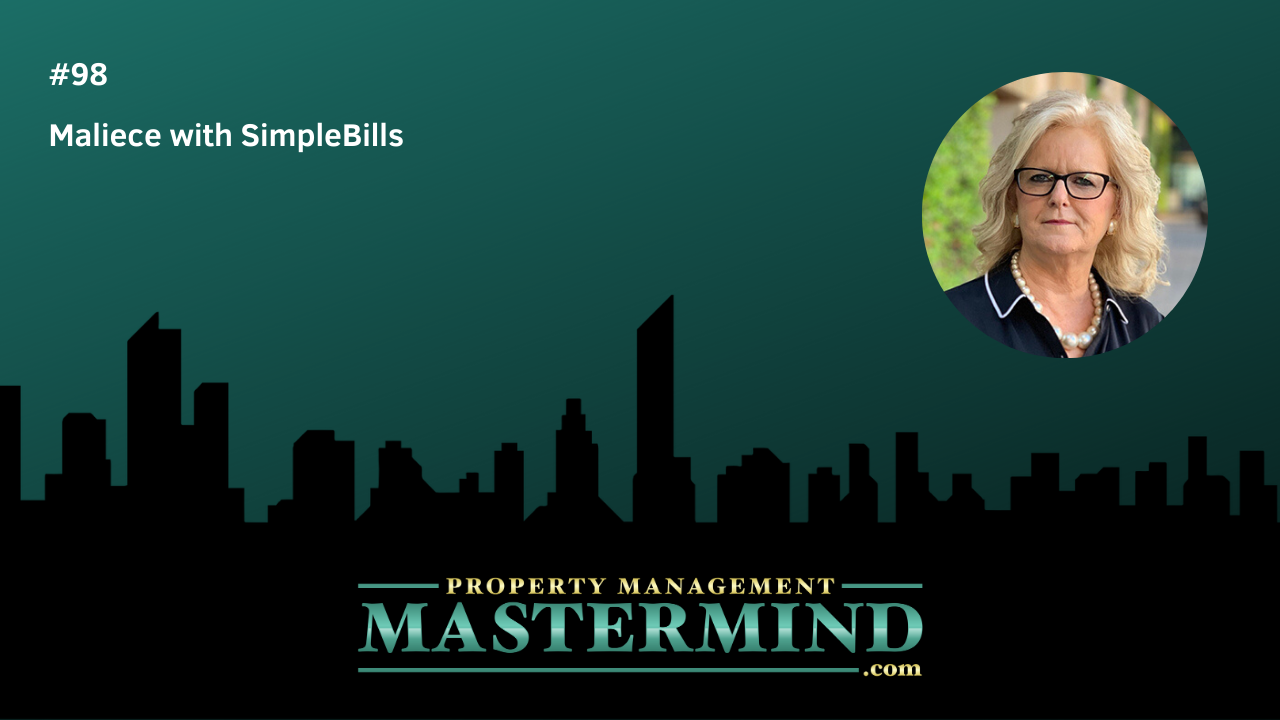 Wouldn't it be great to have a system in place that allows the utilities in move-outs to stay on with no downtime to make ready? Listen as Brad and his guest Maliece Sorrows discuss how Simplebills is making that possible. They also speak about what Simplebills is, and how long they have been around on this episode of the Property Management Mastermind.
Maliece shares how Simplebill works and what the benefits are for a PMC. Brad speaks about RealPage's involvement with Simplebill, and Maliece shares how it will benefit the owners and tenants. They discuss how to implement Simplebills into your company, how to monetize it with your tenants and owners, and all the benefits that come with integrating Simplebills into your property management company.
Listen as they chat about how Simplebill handles compliance with utilities in all the different states where they have offices. Maliece also shares the penalties that can be assessed if a PMC tries to make money from the tenant for utility bills, how they handle delinquencies, and their default procedures.
Simplebill has partnered with Citizens Home Solutions to handle ancillary services while Simplebill takes care of the utilities, which makes everything easier for the tenant, owner, and property management company. Have you jumped onto the Simplebill train yet? If not, you need to listen to this episode because once you do, you will realize you are missing out.
Show Notes
[02:50] Welcome to the show, Maliece!
[03:39] Maliece shares her background and how she got involved with Simplebills.
[04:32] How long has Simplebills been around?
[05:33] Maliece speaks about Simplebills, what it is, and how it got started.
[08:30] Maliece chats about all the utilities being transferred into Simplebills' name so that the services are never interrupted.
[10:40] Maliece shares how RealPage is involved and how it will help the customers.
[12:55] Brad speaks about how to implement this into your company and how to monetize it with your tenants.
[16:25] Maliece discusses how they address this on the Simplebill side.
[18:34] They talk about the added benefits that are built into the Simplebill package.
[21:27] Maliece speaks about compliance and the issues they handle with each utility in each state.
[23:41] What are the penalties that a PMC can incur if they don't comply?
[27:22] How does Simplebill handle delinquencies?
[31:02] Brad chats about his preferred tenant program.
[32:16] Maliece discusses their default procedures.
[35:12] Maliece shares how Citizens Home Solutions will take care of ancillary services, and Simplebills will take care of the utilities; they work hand in hand.
[36:29] Maliece shares some positive testimonials from some PMCs and owners.
[38:38] Thank you so much for being on the show!
Links and Resources:
Property Management Mastermind
Property Management Mastermind Group on Facebook
adisarro@sccombank.com
(619) 988-6708 (Allison DiSarro from Seacoast Commerce Bank)
NARPM Southern States Conference
National Apartment Association