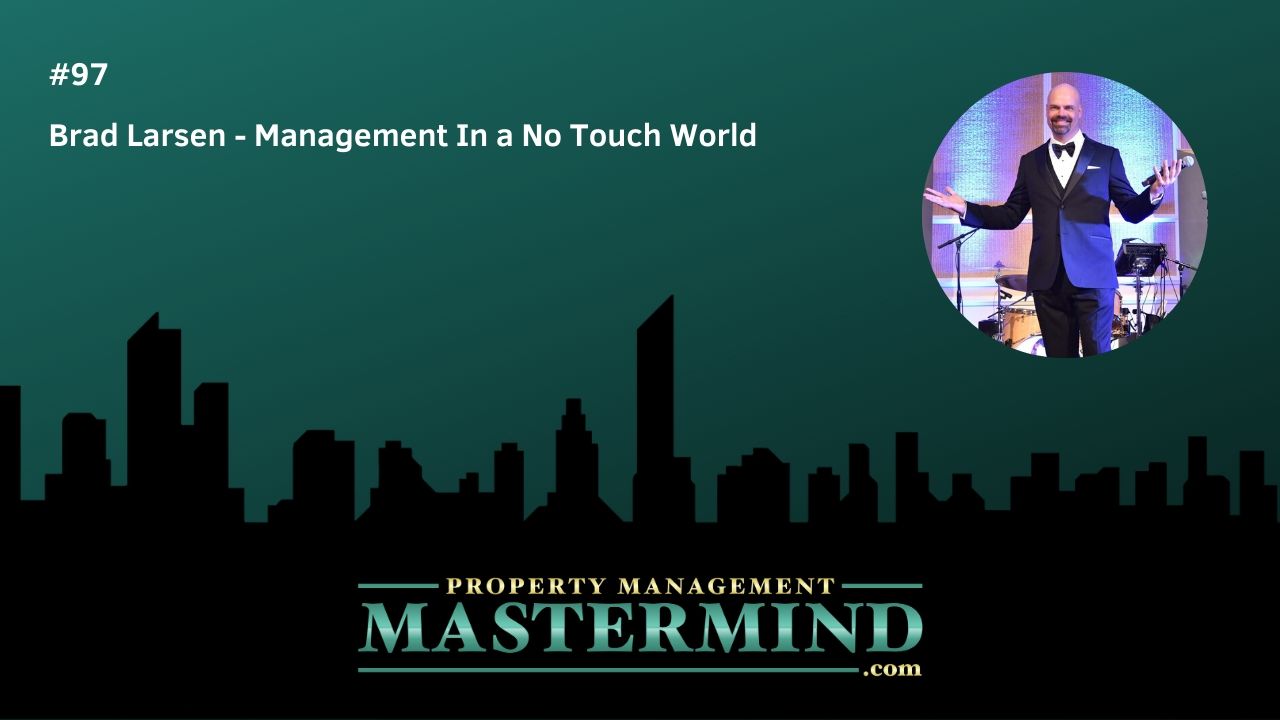 Do you have a no-touch leasing management system in place? Listen, as your host, Brad Larsen shares what they have done at his management company RentWerx to create just that kind of system. He is going through the entire life cycle of managing homes in a no-touch world in this episode of Property Management Mastermind
Brad discusses the beginning life cycle of no-touch leasing, which starts with owner interaction, and the benefits of showing vacant, move-in ready homes only. He also shares what can happen if you show and pre-lease occupied homes, the pitfalls from messy properties to renters wanting to hold over, and the issues that come from that. Brad believes that vacant, move-in ready homes will rent faster.
Brad speaks about no-touch showings and the safety benefits of them, what ghost showings are, and how online applications can work for you. He discusses getting a tenant moved in, the resident benefits package they have, and what it includes. Brad also describes the no-touch way that his company re-keys doors, does inspections, move-out, and how they finalize the security deposits.
With the current situation with the pandemic, the focus is on keeping everyone as safe as possible, and no-touch is the way to go. Because of the safety benefits and just plain convenience, it's a system that has been and will stay in play for RentWerx going forward.
If you have had questions about how your company can do no-touch leasing, you definitely need to listen to this episode.
Show Notes
[01:49] Welcome to the show!
[02:02] Brad discusses what they have done at RentWerx to create a no-touch leasing management system.
[02:38] Brad shares the beginning of the life cycle, owner interaction, and the go-around to meeting them in person.
[03:25] Brad speaks about leasing homes in a no-touch situation, which starts with the showings.
[04:07] They market move-in ready homes only and the reasons for that.
[06:32] Brad chats about tenants that hold over and the issues that can cause if you have already leased the property to a new lessee.
[09:01] If you market a vacant, move-in ready home, it will arguably rent faster.
[09:45] How can you conduct showings with an unoccupied home?
[12:40] Follow up is always recommended once the showing window is over to make sure the property has been closed up properly.
[13:41] Brad discusses the safety factor of no-touch showings and how they can keep agents safe.
[17:11] Do you know what ghost showings are?
[19:36] Brad speaks about online applications and how they benefit everyone.
[21:54] He shares that next, they send out an approval email that includes the draft lease agreement.
[22:56] Brad chats about the preferred tenant program they use and the system they use to collect security deposits.
[26:22] How do you track your adverse action letter?
[28:14] Brad speaks about DocuSign for lease agreements.
[30:01] He shares how they get a tenant moved in and their Residents Benefits Package.
[33:00] Brad chats about rekeying the property before the tenant moves in.
[36:23] In this no-touch environment, how are you doing repairs? Periodic and renewal Inspections?
[39:35] Brad discusses the no-touch move out system they use.
[41:23] RentWerx finalizes their security deposits by regular mail.
[44:15] If they forget to send you an email that shows when they moved out, you can charge them extra days of rent.
[44:50] Thank you for listening today.
Links and Resources:
Property Management Mastermind
Property Management Mastermind Group on Facebook
adisarro@sccombank.com
(619) 988-6708 (Allison DiSarro from Seacoast Commerce Bank)
NARPM Southern States Conference
National Apartment Association