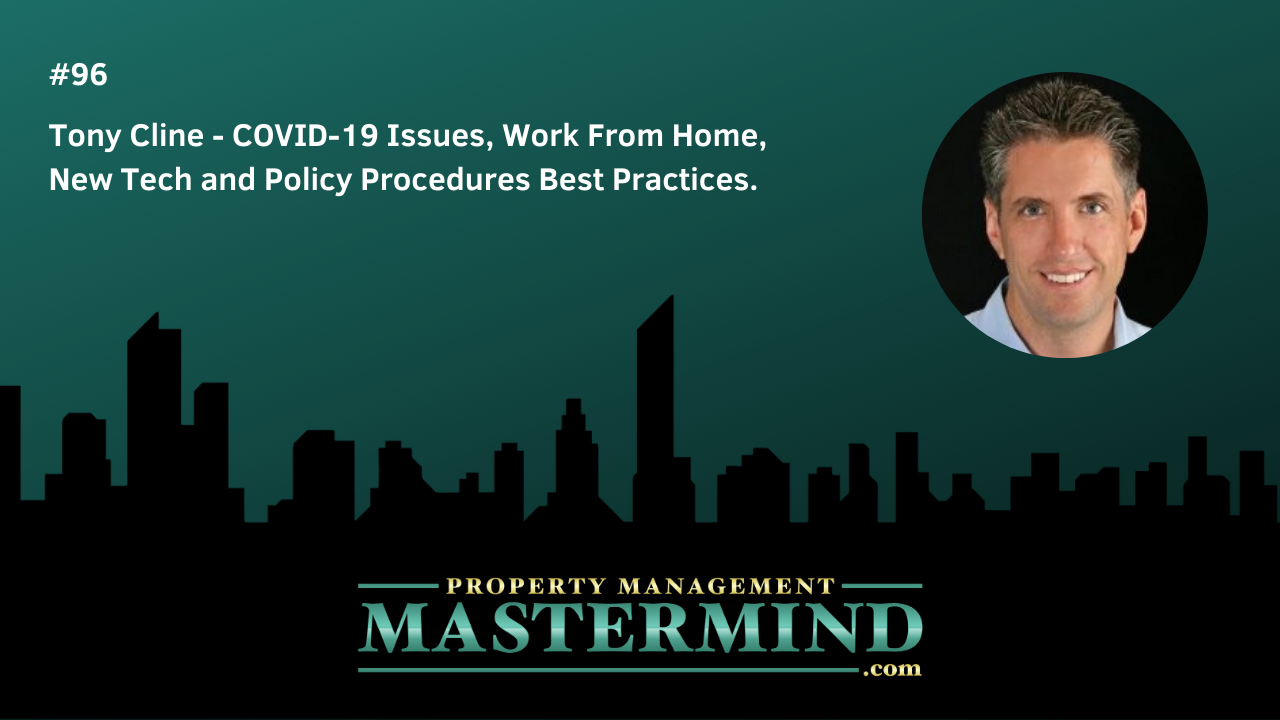 Was your management company prepared for the mandated stay at home order? Listen as Brad and his guest, Tony Cline, discuss why his company was already working from home on this episode of Property Management Mastermind Show. Tony is running the Home Vault Property Management office in Denver, Colorado, he is an ultra runner of fifty to one hundred mile runs and a commissioner for the Arvada Urban Renewal Authority.
Tony shares that his company has been working from home for the last three years, so the work from home mandate changed nothing for them. He also speaks about videoconferencing and how his team was proactive with their communication and messaging with their landlords and tenants.
Brad and Tony chat about new technology they see that will help property management companies, why Brad's team has been looking at procedures and policy changes that will keep them relevant in the next thirty-six months and the belief that with technology, anything you can think of someone is probably working on and just trying to figure out how to make it profitable.
Listen as Tony shares his passion for being healthy and how important diet and exercise are when dealing with the stress, the marathons he runs, and what sparked his desire to get fit. Brad speaks about the Property Management Mastermind marathon he has organized that will include a mastermind session, a half marathon, and a full marathon.
If you are looking for a new perspective on working from home, new tech, and best practices for your business, you won't want to miss the information that Brad and Tony share, so grab a smoothie, relax and hit play.
Show Notes
[02:13] Tony, thank you for being on the show today.
[02:26] Tony shares a little about himself and his background.
[05:06] Tony discusses the switch they made three years ago from working in an office to working from home and how prepared they were for the COVID-19 restrictions.
[07:33] He speaks about the challenges he faced when they transitioned to working from home and how productive his staff continued to be.
[10:37] Tony chats about some video conferencing apps that he recommends.
[12:43] Tony discusses being proactive with their communication and messaging with landlords and tenants.
[15:31] Do you see websites becoming more comfortable to navigate?
[17:01] Tony speaks about interactive messages to make things more personal.
[18:44] Brad predicts that doorbell cameras will have facial recognition capabilities to allow unassisted property showings.
[19:59] Have you been able to develop any key performance indicators from your work from home team?
[23:51] Do you believe that having team members work from home is a mind shift?
[25:36] Tony shares policy procedures and policy changes they have made to be relevant in thirty-six months.
[27:38] Tony believes that as far as technology goes, anything you can think of someone is already working on.
[28:42] Brad and Tony talk about working on contactless leasing and move out capabilities.
[31:38] Tony discusses how years ago, tenants had no voice and how the internet changed it and gave them a voice.
[34:57] What interesting technology service apps do you see coming soon?
[37:18] Tony believes that these services will provide more revenue and a benefit to the tenants.
[39:40] Tony shares his thoughts on Property Managers' health practices and the importance of using exercise to handle stress.
[42:47] Brad discusses how the Keto diet has worked for him.
[43:30] Brad chats about the Property Management Mastermind session plus the marathon they have scheduled Saturday, November 7th, in Savannah, Georgia.
[45:21] Tony speaks about the best practices webinar from the Home Vault Academy.
[47:25] Tony, thank you so much for being on the show today.
Links and Resources:
Property Management Mastermind
Property Management Mastermind Group on Facebook
adisarro@sccombank.com
(619) 988-6708 (Allison DiSarro from Seacoast Commerce Bank)
NARPM Southern States Conference
National Apartment Association
Home Vault Property Management