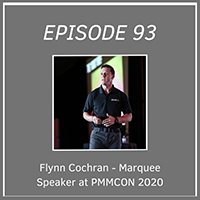 If you could learn leadership from a Navy SEAL, would you? Flynn Cochran is a former Navy SEAL and the Chief Strategy Officer for Echelon Front, a leadership consulting firm where he is a leadership instructor. Flynn uses the consulting models from the books Extreme Ownership and Dichotomy of Leadership by Jocko Willink and Leif Babin to teach individuals and businesses the principles of leadership and how to use them change cultures and lives.
Flynn shares about his SEAL training and military career, why he left to go to business school, and what he learned there that has helped him advance in his career. Flynn also chats about some of the clients that the consulting firm has helped using these leadership principles. Flynn shares how these leadership principles are available for anyone, not just business owners, and some lightbulb moments he has shared with civilians he has taught.
Flynn is the Marque speaker at the Property Management Mastermind Conference and is also doing a three-hour add on seminar that you won't want to miss. He speaks about what he plans to teach, who his target audience is, and why attending both of his sessions will be beneficial. There will be hands-on lessons as well and discussions on decentralized command because he believes everyone needs to know their role but be prepared to step in and help anyone on the chain of command.
Listen as Flynn shares some of the topics he will touch on during the Property Management Mastermind Conference next month in Las Vegas. If you are planning on going, great, you just got a good overview of her presentation, if you haven't bought your ticket yet, don't hesitate they are getting scarce. You don't want to miss the information that will blow your mind at the conference.
Show Notes
[02:46] Flynn, how are you today?
[03:10] Flynn introduces himself, his background, and why he took the position at Echelon Front.
[05:41] He discusses the two books that Echelon Front uses to teach leadership principles.
[08:12] Flynn shares his military career and seal training with us.
[11:00] Flynn speaks about going to business school once he left the military.
[12:27] Can you tell us more about business school and why you decided to go that route?
[14:49] Flynn chats about some big clients that he has helped grow their businesses exponentially.
[17:45] What are some lightbulb moments that you have seen when training civilians on these principles?
[21:33] Flynn shares what he will be speaking about during his two sessions at PMMCon.
[23:15] He details the important leadership mindsets that he will be discussing in his Marque speech.
[27:19] Flynn describes the hands-on teaching he will give during the three-hour seminar.
[29:44] Do these principles apply to everyone, not just business owners?
[31:14] Flynn speaks about decentralized command and how you need to understand your role and how you can support individuals up and down the chain of command.
[32:44] Flynn, can you give me one tidbit of what you believe the attendees will get out of the three-hour seminar?
[34:33] Flynn, thank you so much for coming on the podcast today.
Links and Resources:
Property Management Mastermind
Property Management Mastermind Group on Facebook
adisarro@sccombank.com
(619) 988-6708 (Allison DiSarro from Seacoast Commerce Bank)
(918) 728 8992 (Derek Scott with Insurance Management Group)
NARPM Southern States Conference
National Apartment Association
For the Property Management Mastermind Conference information https://pmmcon.com/