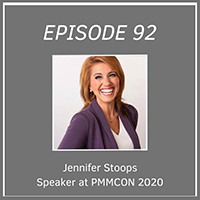 Would you like to work yourself out of a job? Listen as Brad with his guest Jennifer Stoops shares how her boss, John Bradford owner of Park Avenue Properties, did just that. John set the stage for Jennifer to take over as his replacement so she could take the reins while he pursued other ventures and promoted her from a property manager to Executive Vice President.
Brad and Jennifer discuss what she will speak about at the Property Management Mastermind Conference in March, and the challenges she faced getting her boss to trust her enough to let her take the reins of the company. They also chat about having a contingency set up in your business so that if something happens to you and you are incapacitated, someone else can step in.
Jennifer shares how important it is to make sure to have your accounting team secure when you have someone to step in to run your company. They also discuss education, getting the necessary designations, and the need to keep up with your KPI's, so you know what is going on in your company.
Do you feel like your name has become a noun? Listen in as Jennifer shares why she feels that way about her name, why having someone assist you is necessary, and how not asking for help when you are overwhelmed can be a detriment to your job.
These are all subjects that Jennifer will touch on at her seminar during the Property Management Mastermind Conference next month in Las Vegas. If you are planning on going, great, you just got a good overview of her presentation, if you haven't bought your ticket yet, don't hesitate they are getting scarce. You don't want to miss the information that will blow your mind at the conference.
Show Notes
[02:37] Welcome to the show, Jennifer!
[02:55] Jennifer, can you give us a rundown of how you ended up as the Executive Vice President at Park Avenue Properties?
[05:28] Jennifer shares how she came to be running the company.
[06:50] She speaks about John's political aspirations to get voted to a seat in the House of Representatives.
[08:15] Brad chats about what he asked Jennifer to talk about at the PMM Conference.
[10:28] Jennifer talks about the challenges she had trying to get John to let go of the company.
[12:25] She tells us she had to show him that she would always keep him in the loop because it's his company.
[13:49] Do you have a contingency set up in case you get incapacitated and are not able to run your company?
[15:32] Jennifer speaks about knowing that John was ready to let her take over when he finally opened the books, so she had all of the tools she needed.
[17:11] Brad says that he is grooming his second in command to take over RentWorks when he is off doing other things and the challenges they have to overcome.
[20:23] They talk about how important the accounting aspect is when trusting someone to run your business.
[22:13] Jennifer and Brad discuss watching the bottom line because you are entrusted and incentivized to do so.
[25:35] Jennifer shares about having an operating slush fund and watching the budget.
[27:58] Brad speaks about getting Melanie's education and getting her designations so that she is ready to step in for him when he needs her too.
[28:54] Jennifer agrees with Brad on training and chats about when she started getting her designations.
[31:45] Brad and Jennifer discuss KPI's and google reviews and what they need to be to keep your business on track.
[34:07] Jennifer says that her name has become a noun because everyone wants to get a right-hand person like Jennifer.
[36:07] Jennifer shares how they incentivize their management teams, which can keep them motivated.
[39:00] Jennifer tells us she is a control freak and is struggling with letting go and having someone help her because she can't do it all.
[41:24] Jennifer, can't wait to see you at the conference!
[41:49] Thank you for being on the show.
Links and Resources:
Property Management Mastermind
Property Management Mastermind Group on Facebook
adisarro@sccombank.com
(619) 988-6708 (Allison DiSarro from Seacoast Commerce Bank)
(918) 728 8992 (Derek Scott with Insurance Management Group)
NARPM Southern States Conference
National Apartment Association
For the Property Management Mastermind Conference information https://pmmcon.com/
For the Business Development Mastermind Seminar https://www.eventbrite.com/e/bbc-business-development-mastermind-tickets-70402370385