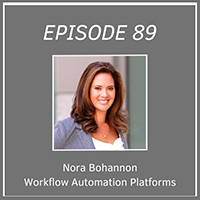 Brad is talking with Nora Bohanon on this episode of the Property Management Mastermind. Nora is a property management company owner out of the Chicago area. They are talking today about the holy grail of software, which is the workflow platform. There are so many platforms out there right now that we just wanted to discuss them and the potential solution Nora has for everyone.
Nora talks about the difference between a ticketing system and total automation software, the different names and brands, and what they do the same and different. She gives the implementation for when these different types of software should be used, and how to tie it all into your signature platform. She also explains the best uses of the software and gives examples of each.
Find out ways to automate and reduce your staff, set priority levels, and keep the workflow going without things falling through the cracks. If you have an automated system or if you are thinking of getting one, this is the episode for you. Take advantage of what Nora is offering and look her up. She can help you decide what works best for you.
Listen in to this conversation; they cover many topics and go in-depth on the major ones; if you want answers to some of your questions concerning software and how to integrate and implement an automated system, you won't want to miss this episode.
Have you purchased your for PMMCon 2020 yet? Don't hesitate. Tickets are selling fast!
Show Notes
[02:22] Welcome to the show, Nora!
[03:11] Nora gives us a little rundown of who she is and her ideas on the workflow platform.
[04:22] She speaks about the area she works in Chicago and the challenges around it.
[06:04] What is a workflow platform? Is it a ticketing system?
[07:18] Nora is talking about total automation software; they talk about the different platforms.
[10:20] She talks about the usage of these software programs in the order they should be used.
[12:25] Can you tie this into a signature platform?
[13:32] Nora talks about automating emails and texts and the fact that folio won't integrate entirely.
[16:06] She describes the best uses of the software and explains each one.
[17:42] What is the coolest feature you've seen on these new platforms?
[20:58] This can be as complex, and you want it to be depending on the size of your company.
[22:30] How difficult is the implementation of the software you choose?
[25:01] If you automate ten tasks, will that save you a staff member?
[26:33] To find Nora and learn about these systems go to www.rentalworkflows.com
[29:05] You can set priority levels for different types of things.
[30:26] Implementing these systems is different for everyone, depending on the size of your company.
[32:56] Implement something that works with your processes, with something like lease renewals and move on to others once you learn this one.
[34:15] A personal URL is available with a personalized page and generated for you.
[35:04] Look at these platforms and find what features you want to make working your business more streamlined.
Links and Resources:
Property Management Mastermind
Property Management Mastermind Group on Facebook
adisarro@sccombank.com
(619) 988-6708 (Allison DiSarro from Seacoast Commerce Bank)
(918) 728 8992 (Derek Scott with Insurance Management Group)
NARPM Southern States Conference
National Apartment Association
For the Property Management Mastermind Conference information https://pmmcon.com/
For the Business Development Mastermind Seminar https://www.eventbrite.com/e/bbc-business-development-mastermind-tickets-70402370385