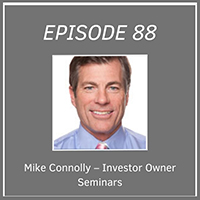 In this episode of Property Management Mastermind, Brad is talking with Mike Connolly. Mike is an operator, and property management company owner out of the San Francisco bay area. He does property management seminars and is offering our listeners today his powerpoint and handouts free for anyone who emails him at Mike@EastbayPMC.com and leaves an honest review.
Mike discusses why he advertises by direct mail, the cost for each piece, and how fast he can recoup the expense. He talks about working with his brother Tom and how they bring both of their businesses together to benefit their bottom lines. Mike speaks about the four-page newsletter he and his brother send out quarterly and what topics they cover.
They chat about inspections and how in-depth the owners want the yearly review to be. Mike also tells us about the statewide rent control law that was passed in California and how hard it will be to get rid of problem tenants. He describes his property management seminar called, The Twelve Basics of and his investment seminar called, Should I Own, Sell or Exchange My Rental Property, and how he got started doing them.
Listen in to this conversation; they cover many topics and go in-depth on the major ones; if you want answers to some of your questions concerning your clients and how to advertise most economically, you can't miss this episode.
Have you purchased your tickets for PMMCon 2020 yet? Don't hesitate. Tickets are selling fast!
Show Notes
[03:20] Welcome to the show, Mike!
[03:43] Mike gives us a rundown of his background and what he has going on now.
[06:12] He tells us how direct mail has worked for him.
[07:27] What does each piece cost? What is your Client Aquisition Cost?
[10:21] Mike discusses working with his brother and breaks down what they each do.
[13:24] Only 5% of realtors own property themselves.
[16:00] How do you keep your owners from drifting off, so you don't lose the sale? Does the newsletter help?
[19:34] Mike chats about doing what is best for the owner, whether that is for the owner to sell or to keep letting him management the property.
[20:45] Have you ever had an owner want a full-blown inspection once a year? Do they usually request just a visual?
[25:17] California just passed statewide rent control; it's a 5% rent cap plus the cost of living increase. The real problem will be trying to get rid of a problem tenant.
[28:33] Mike talks about the seminars he does and describes what he talks about in the workshops.
[31:05] He calls his seminars a listing presentation that he gives to sixty people at a time.
[34:29] Is this educational selling at a high level? Do you get indirect referrals?
[35:41] Mike chats about his investment seminar called, Should I Own, Sell, or Exchange My Rental Property.
[38:10] Are your seminars packaged up, or how do you present them? Are they free if I email you?
[39:45] Mike believes that looking at someone in the eye and talking to them one on one gets him more business than trying to do it.
[40:38] Email Mike@EastBayPMC.com for the free seminar powerpoint and leave an honest review for Mike as a thank you for the free information.
Find Mike
Mike@EastbayPMC.com
Links and Resources:
Property Management Mastermind
Property Management Mastermind Group on Facebook
adisarro@sccombank.com
(619) 988-6708 (Allison DiSarro from Seacoast Commerce Bank)
(918) 728 8992 (Derek Scott with Insurance Management Group)
NARPM Southern States Conference
National Apartment Association
For the Property Management Mastermind Conference information https://pmmcon.com/
For the Business Development Mastermind Seminar https://www.eventbrite.com/e/bbc-business-development-mastermind-tickets-70402370385