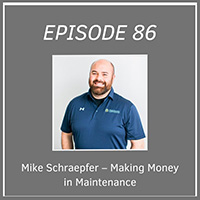 Brad is excited to have Mike Schraepfer on this episode of Property Management Mastermind. Mike is the President of Heirloom Property Management in Duluth, MN. He enjoys sharing his experience to help new investors find properties, solve financing, and work through renovations.
Mike started his career as an investor eighteen years ago and built up a portfolio of 126 single-family homes and duplexes. He renovated the properties to lease, and his property management career began. Six years ago, he began managing properties for other individuals, but he is still his biggest client.
He manages properties that he owns, which makes him the property manager everyone wants to be. His business of management is running his assets, which puts him in the top tier, probably the top 1% of property managers in the country. His company doesn't have a 401K for its employees. He decided to go a different way and teach them how to invest and manage properties, and as of right now, his staff owns about 25 units.
Mike is one of the speakers at the Property Management Mastermind Conference in March 2020. Listen as he reveals the topic of his presentation and a sneak peek of some of his key talking points. He will discuss how your company can benefit from bringing your maintenance in house and the best software to bring it all together and so much more.
Have you purchased your tickets yet? Don't hesitate; Mike is just one of the many high-level speakers that will be at the event. Listen in for a small taste of what you can expect when a group of elite property managers get together in one place. If you already have your tickets, great! If not visit the PMMCon.com and get them now before they are sold out, this is one conference you won't want to miss.
Show Notes
[02:22] Mike, welcome to the show!
[03:08] Mike talks to us about how he got into property management.
[04:08] He speaks about his alternative way of helping his staff save for retirement.
[05:57] Mike discusses the mastermind group he formed with five other people.
[07:42] They discuss the topic Mike will talk about at the Property Management Mastermind Conference. Making Money in Maintenance.
[13:09] Mike will have some excellent deliverables for the people who attend his presentation.
[14:18] What did you take away from the NARPM Conference that you are excited to use?
[16:31] Ancillary fees were implemented in Mike's company in the last year, and they have helped the bottom line.
[18:08] Mike will talk about best practices and markup vs. margin at the PMMCon.
[19:28] Bring in house everything that doesn't require a license when it comes to maintenance.
[20:50] What software do you use to run maintenance estimates? Do the techs have tablets?
[23:13] Mike says he is most excited about the black-tie event at the conference.
[23:56] They talk about presentation ideas for other meetings.
[25:15] Scott Brady asks the question, "How can you run a property management business without any management fees"?
[27:26] Operational management is conducting maintenance at a high level.
[27:58] They chat about Mike going to Madrid, Spain, to his business and come up with new ideas.
[29:07] See you in Las Vegas, thank you for coming on the show!
Links and Resources:
Property Management Mastermind
Property Management Mastermind Group on Facebook
adisarro@sccombank.com
(619) 988-6708 (Allison DiSarro from Seacoast Commerce Bank)
(918) 728 8992 (Derek Scott with Insurance Management Group)
NARPM Southern States Conference
National Apartment Association
For the Property Management Mastermind Conference information https://pmmcon.com/
For the Business Development Mastermind Seminar https://www.eventbrite.com/e/bbc-business-development-mastermind-tickets-70402370385