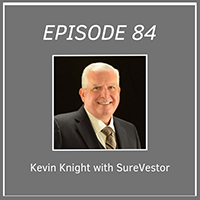 In this episode of Property Management Mastermind, Brad welcomes Kevin Knight. Kevin is the President of Liberty Mangement Inc. He, along with his partners, brought the SureVestor insurance program to the United States from Australia. As a property manager for over 20 years, he is very excited to offer this product to his customers.
This program covers what owner's insurance does not and helps alleviate the fear of malicious damage and unpaid rent that owners feel when they hand over their property to renters. This also benefits property managers because it can only be purchased through a property management company, owners do not have access to it any other way.
Kevin believes that this insurance is something that addresses what owners want, and it is so easy that marketing is a breeze. With the rental market, the way it is the ability to offer something so diverse might make the difference when trying to pull in the self-managed landlords.
Brad and Kevin discuss the PM health group and encourage all property managers to take the time to be as healthy as they can. Kevin says, "the best way to improve your business is to improve your health," which is why SureVestor is sponsoring ten individuals for the 5K run/walk at the NARPM National Conference.
If you are trying to grow your property management company, this is an opportunity you won't want to miss. Listen in to find out about this new way to give your business a boost with a program that benefits all involved. Kevin is so excited about this that he will get you fired up as well. So get ready to be inspired to expand your business.
Show Notes
[02:29] Welcome to the show, Kevin Knight!
[03:27] Kevin tells us about the insurance program called SureVestor.
[05:45] They discuss the Australian rental market and how different it is from the U.S.
[06:51] For more information about this program, go to www.SureVestor.com.
[07:45] Kevin speaks about owners needing to use a property management company to be able to purchase this program.
[09:17] Brad talks about Kevin losing 50 pounds and being part of the PM health group.
[09:42] Kevin chats about being at NARPM National Conference and SureVestor, sponsoring 10 people in the 5k walk/run.
[10:45] Kevin tells us his recommendations for the implementation of the SureVestor insurance product?
[13:52] Lloyds of London is the company that is underwriting the insurance for SureVestor.
[15:48] Kevin speaks about the hard hitters he has coming in for the NARPM National Conference.
[16:43] Because of the rules and regulations we have now in the states, it is getting harder for individuals to rent properties.
[18:45] Kevin says that there will be a film crew at the conference for property managers to film intros.
[19:34] Brad talks about the relationship between vendors and attendees at the Property Management Mastermind Conference in March 2020.
[21:37] The best way to improve your business is to improve your health.
[24:04] Kevin believes this insurance addresses what owners want, and it is so easy.
[25:37] If the owner wants this, how does a property manager request this insurance? Is there a portal?
[27:49] How much does something like this cost? Are there different options?
[29:22] It makes your property management company more like to get business if you offer the insurance, and others don't.
[30:30] The key to selling this is marketing and the opt-in and opt-out form.
[33:24] Brad discusses the BizDev seminar for more information go to www.bizdevseminar.com.
[35:45] Kevin talks about pulling in self-managed landlords with the SureVestor product and how much business is out there for property management companies.
[38:44] What is something else about SureVestor that you are excited about?
[41:10] Kevin's last thoughts about coverage and letting your current owners know about the program.
Links and Resources:
Property Management Mastermind
Property Management Mastermind Group on Facebook
adisarro@sccombank.com
(619) 988-6708 (Allison DiSarro from Seacoast Commerce Bank)
(918) 728 8992 (Derek Scott with Insurance Management Group)
NARPM Southern States Conference
National Apartment Association
For the Property Management Mastermind Conference information https://pmmcon.com/
For the Business Development Mastermind Seminar https://www.eventbrite.com/e/bbc-business-development-mastermind-tickets-70402370385