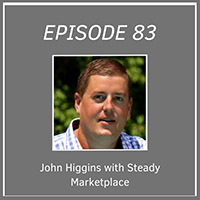 Property Management Mastermind welcomes John Higgins to the show. John is the Co-Founder and CEO of Steady. They offer a customized insurance product to landlords and property owners to offset the cost when tenants default on their leases. It is in 35 states right now, and they are working on adding the remaining states as quickly as possible.
John discusses how their product can be monetized, how it is being offered, and whom the product is designed to benefit. He talks about how easy it is to implement this insurance, the technology behind the pricing, and how to find out who underwrites it for them.
If you are looking for a new way to offset the risk that is hardwired in the property management industry, this is the episode for you. Get a pen and paper ready because you will want to jot down some of the high points of this conversation.
Show Notes
[02:53] Welcome to the show, John Higgins!
[03:35] John starts by telling us a little about himself and his company.
[05:58] They discuss the legislation that is being passed to protect tenants in the U.S.
[07:56] John's company is now in 35 states, and they are working on adding the remaining states.
[08:59] He speaks about his company and gives us a description of what they do.
[10:52] Can you monetize this? How is it offered?
[12:24] It is designed to benefit property managers as well as small landlords.
[15:59] Is their any insurance licensing required? Would it help them to be licensed?
[18:43] John chats about property managers selling the coverage in a package to landlords.
[19:15] Can you buy it as a one-off? Do you have to buy it as a package?
[20:17] Steady provides the framework so that anyone can implement this program.
[20:43] The pricing depends on the property location; they use technology to individualize the rates.
[23:33] The underwriting for their policies is a very reputable company, to find out more information go to www.steadymarketplace.com
[24:38] Why would you want to engage with Steady?
[27:10] To get in touch with John, him at John@steadymarketplace.com
[29:03] John's final words.
Links and Resources:
Property Management Mastermind
Property Management Mastermind Group on Facebook
adisarro@sccombank.com
(619) 988-6708 (Allison DiSarro from Seacoast Commerce Bank)
(918) 728 8992 (Derek Scott with Insurance Management Group)
NARPM Southern States Conference
National Apartment Association
For the Property Management Mastermind Conference information https://pmmcon.com/
For the Business Development Mastermind Seminar https://www.eventbrite.com/e/bbc-business-development-mastermind-tickets-70402370385