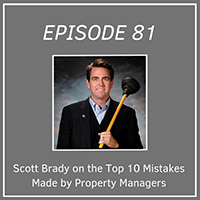 Welcome to the show! Today's guest is Scott Brady and they will be talking about the top 10 mistakes that could have been or may have been made by property managers. Scott goes through each of these items and gives some great dialogue on how not to make those same mistakes, there are some really great nuggets of information here that you don't want to miss.
Scott is going to be a facilitator and instructor at the Property Management Mastermind Conference in March 2020. He will be starting the conference with his SWOT analysis instruction piece, strengths, weaknesses, opportunities and threats. Scott has taught this at the collegiate level and will be able to teach it at the conference level, this is all on the first day of the conference so make sure to purchase your ticket as soon as possible.
Scott has a property management company in Southern California and has been in the industry since 2012, and manages 1200 doors. He says he is a student of this industry it fascinates him, both the opportunities and weaknesses, he teaches the top 10 mistakes because he has made these mistakes. Listen in to this conversation and see if there are some mistakes you can relate to or if you can learn from others who have made them.
Show Notes
[02:53] Brad introduces Scott Brady.
[03:33] Scott tells us about himself and what he will be teaching at the conference.
[05:30] There will be 2 hours of mastermind sessions the first day of the conference.
[05:55] Here are the top 10 mistakes and how not to make them, in no particular order.
[06:32] Don't pick a price, pick a strategy, they charge a flat fee and a percent of rent collected.
[12:24] Don't take just any client that comes in the door, are they your perfect customer?
[18:00] If you don't solve your owner pain points you don't have value with the relationship, it's the right thing to do.
[24:33] Not taking advantage of the local real estate community, get the local agents to refer their clients to you.
[27:10] Brad talks about the Business Development Mastermind Seminar in Atlanta in January 2020 that Property Management Mastermind is putting on and Scott is speaking.
[30:18] You have to be completely transparent in this industry, make sure your website has updated information, contract and pricing.
[35:28] Direct mail with transparency is very valuable but you must manage your expectations.
[38:39] Taking no risk in a mistake, you must take risks to get ahead, you won't always get it right but you must take risks.
[43:31] Get out of the business and work on the business, you will be able to look more strategically at your business.
[47:15] Don't help other people get rich without getting rich yourself, sell every property that you manage, buy one property per year at least create assets, that is what will make you rich.
[51:55] Improve your business, go to conferences, syndicate or implement programs. Invest in your business with your time by learning what your strengths and weaknesses are.
[54:15] Brad tells us about implementation day at the conference, he wants people to come out of the conference with a call to action list.
[55:20] Scott says that he wants everyone to look at their businesses differently, make changes now to see big differences in the future.
Links and Resources:
Property Management Mastermind
Property Management Mastermind Group on Facebook
adisarro@sccombank.com
(619) 988-6708 (Allison DiSarro from Seacoast Commerce Bank)
(918) 728 8992 (Derek Scott with Insurance Management Group)
NARPM Southern States Conference
National Apartment Association
For the Property Management Mastermind Conference information https://pmmcon.com/
For the Business Development Mastermind Seminar https://www.eventbrite.com/e/bbc-business-development-mastermind-tickets-70402370385