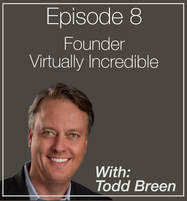 Thanks to this close working experience with him, I'm deeply familiar with his expertise in the property management industry, and am glad to have him on the show to share that expertise with you! We're actually recording this episode on location in Las Vegas at the NARPM Broker/Owner Conference.
Todd has been the owner of a property management company for over 30 years, but he has been involved in the industry from an early age. His dad was a real estate broker, so he began his unofficial training while working in various capacities for his father from the time he was young. Today, Todd is the owner of Virtually Incredible.
In this interview, Todd will talk about outsourcing and why it's vital to keeping your rates competitive and being able to scale effectively. He also shares brilliant (and sometimes counterintuitive) advice, experiences, and techniques. For example, he explains how he actually increased his income when he reduced his doors from 300 to 140 in 1994.
Links and Resources: