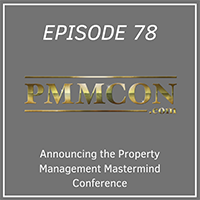 Are you ready to purchase your tickets to Property Mangement Mastermind Conference? We are going over everything about the PMM Conference so you will be informed and ready to hit the floor running. It is March 2-4, 2020 at the Mirage in Las Vegas with two add on seminars Monday and Wednesday mornings. Please check out the newPMMCon.Com website that just went live today and reserve your place.
This conference is packed with leaders in our industry and some that aren't but have knowledge that can be used in any industry. The Key Notes speakers are Andrew Reece a household name in the property management industry and John Warrillow author of Built to Sell. But these are only two of the amazing speakers we have lined up for you to interact with, learn from and hopefully walk away from with new insights for how to proceed in this industry.
This is going to be a very exciting 3 days and I know that you will be talking about everything you learned until we meet again in 2021. All of the ideas, tools, and knowledge on how to implement the things that you learned, but it's not all work and no play we have an Awards Banquet planned that will make you feel like royalty.
So go to the PMMCon.com website, register and start the process to success, tell your friends and colleagues about it this is an event that if you are in the property management industry you won't want to miss.
Show Notes
[01:10] Brad is going over the dates for PMM Con for 2020 at the Mirage in Las Vegas.
[02:50] On the first day of the conference there is an add on seminar with Mike Nelson on Key Performance Indicators.
[04:24] In the afternoon starting about 1:15 on the main stage is the Key Note speaker Andrew Reece a very well know property manager speaking about what he has done with his company in Australia.
[06:08] After we hear from Andrew we are bringing in Scott Brady who will talk about how to use SWAT.
[06:46] These two speakers lead us into why we doing this conference in the first place our mastermind sessions - there are five mastermind groups with five different facilitators.
[08:17] We are doing the mastermind sessions day one so that you can meet the folks that you want to network with.
[08:48] This all ties into the vendor mixer that evening where you will mix with the vendors and advertisers to talk and mingle.
[09:34] Brad discusses the cost of the conference which includes meals, registration and the awards ceremony.
[11:18] Day two of the conference starts with Key Note speaker John Warrillow author of Built to Sell he also has a podcast with the same name.
[12:04] Next session the facilitators will come in and go over the highlights from the mastermind sessions.
[12:45] Jennifer Stoops is the next speaker, developing second in command, your replacement.
[13:55] Matt Whitaker does a presentation on the playbook for the unexpected acquisition.
[15:41] Brad is very excited about getting Mike Schaffer he has a podcast called Investing with your Team, step by step instructions on how to go out and buy properties with your team.
[16:50] Krista Peterson with Culture Index will also be there to talk about personality assessment tests.
[18:34] Workflow platforms with Michael and Heather Parks, how they work, the benefits of them and what the future holds.
[19:14] The Awards Banquet, the fun stuff as Brad calls it is the last evening of the conference, he is encouraging you to apply for an award.through Survey Monkey. It is a black-tie affair come dressed appropriately, there will be dinner and an open bar.
[22:21] Implementation day facilitator will drive the conversation to get you organized to implement what you learned when you get back.
[23:28] Lt Colonel Mike Bajema will talk about the extreme ownership concept.
[25:08] Add on seminar number two is Mike instructing on extreme ownership even further, hands-on learning and team-building exercises.
[26:39] Would you like to advertise at this conference?
[28:39] Brad hopes you take away from this conference the excitement that makes you impatient for the conference in 2021, he hopes to see you there.


Links and Resources:
Property Management Mastermind
Property Management Mastermind Group on Facebook
adisarro@sccombank.com
(619) 988-6708 (Allison DiSarro from Seacoast Commerce Bank)
(918) 728 8992 (Derek Scott with Insurance Management Group)
NARPM Southern States Conference
National Apartment Association