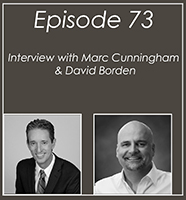 David Borden and Marc Cunningham talk about Pulling Back the Curtain Conference coming up in Denver, Colorado. The goal of the conference is twofold: how to attract more business and how to make more money with the new business you can get from attending the conference. Our speakers are property managers who run successful businesses throughout the country. To become a speaker, an applicant must give David and Marc the information they use to be successful. No fluffy speakers, the conference workshops are going to give you real, actionable items.
I love offering listeners fantastic benefits, such as some great discounts for products, with new offers coming all the time! You can see a complete list at Property Management Mastermind. For all of these offers, use the discount code "Brad" to secure your discount. Be sure to grab a seat for our Pulling Back the Curtain Conference in August in Denver, Colorado. Find out more information on our website.
We'll learn today about the details, speakers, and types of workshops you can expect at Pulling Back the Curtain conference. Marc and David tell you what you can expect at the conference over the two days. Day 1 is the day you definitely want to attend. You'll get heavy duty workshops. Day 2 you can pick and choose your sessions at $250 per session. You can choose as many sessions as you want for Day 2 or you don't have to attend Day 2.
Show Notes
[03:08] Why Marc and David started Pulling Back the Curtain Conference.
[04:30] Format of the conference and how to implement the information you have learned.
[07:48] The biggest challenges for Marc and I during our keto weight loss challenge.
[10:00] Details of Pulling Back the Curtain Conference in Denver and the ease of access for the conference.
[13:22] Line-up of presenters for the conference and what I'm talking about at Pulling Back the Curtain.
[20:56] Revenue playbook and how to fire up your business with the conference workshops, including social media workshops.
[26:19] Brining in and training your second in command so you can do bigger and better things in your business.
[27:00] How to eliminate bad or negative churn, making challenges to portfolio managers.
[29:05] How Marc invites his speakers for Pulling Back the Curtain.
[33:11] Foundations which David and Marc use for their property management software.
Links and Resources:
Property Management Mastermind
Property Management Mastermind Group on Facebook
(619) 988-6708 (Allison DiSarro from Seacoast Commerce Bank)
(918) 728 8992 (Derek Scott with Insurance Management Group)