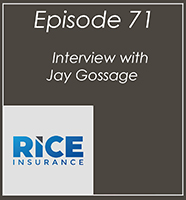 Jay Gossage is an insurance agent with Rice Insurance in Washington state. He has been in the realty business for almost three decades and has seen many examples of realtors being underinsured or uninsured for different types of liabilities. He is currently an insurance agent and specializes in selling Errors and Omissions insurance, which most who work in the realty business currently have for coverage.
I love offering listeners fantastic benefits, such as some great discounts for products, with new offers coming all the time! You can see a complete list at Property Management Mastermind. For all of these offers, use the discount code "Brad" to secure your discount. Be sure to grab a seat for our Pulling Back the Curtain Conference in August in Denver, Colorado. Find out more information on our website.
We'll learn today about Errors and Omissions insurance from the E & O expert, Jay Gossage. Find out why you should carry Errors and Omissions insurance, what is the typical base policy for this type of insurance and how to customize your policy to fit your needs. Cyber liability should be an additional policy, not wrapped into your E & O policy. You can't rely on general liability and E & O insurance for your social liability, there are specific policies and riders which augment your insurance coverage to cover these situations.
Show Notes
[03:17] Jay talks about his background in real estate and how he morphed into the E & O department at Rice Insurance.
[05:28] Jay tells us what Errors and Omissions insurance is and why it is so important to hold this insurance in the real estate field.
[06:31] How professional liability insurance correlates to E & O insurance.
[07:38] Why to put your carrier on notice ASAP if you think you will put in a claim.
[09:21] Standard coverage in a typical E & O policy.
[10:33] Is cyber liability insurance covered under an Errors and Omissions Policy?
[12:00] Employee theft and what types of insurance covers this type of fault.
[14:48] Social liability example which Jay dealt with which included a $100,000 phishing email and wire request which was not covered under the business's current insurance.
[16:46] Common environmental concerns a property manager sees on a regular basis.
[18:35] HUD, service animals and rental clients in relation to E & O insurance.
[20:00] Coverage and exclusions differ from carrier to carrier, make sure you know what is included in your insurance policy and what is covered.
[20:37] How much coverage do you need for your business?
[21:30] Price range for different business insurance coverages, check your carrier for specific policy pricing.
[23:20] Process of applying for Error and Omissions insurance.
[25:40] The ease of the application process for E & O insurance.
[26:55] How to contact Jay Gossage for more information or to purchase E & O insurance from Jay.
Links and Resources:
Property Management Mastermind
Property Management Mastermind Group on Facebook
(619) 988-6708 (Allison DiSarro from Seacoast Commerce Bank)
(918) 728 8992 (Derek Scott with Insurance Management Group)
Jay Gossage: 363-603-4343