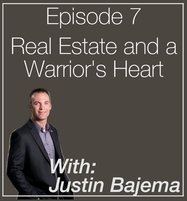 In this episode, we hear from Justin Bajema, a property management company owner from Michigan who recently moved to Texas. In this powerful interview, he talks not only about property management, but also his experiences in the Marine Corps.
In 2003, Justin was coming back from Iraq and got a care package from his aunt and uncle. Inside was a copy of Rich Dad, Poor Dad. From that book, he got the real estate bug, and got involved in the industry when he got out of the army in 2005.
In the process of learning about the industry, Justin's wife actually went to work for a competitor (where she was open about their interest in getting into property management). From there, they transitioned into owning single-family homes. After finding out about the National Association of Residential Property Managers (NARPM), they set up their own chapter.
After learning about Justin's background in property management, we'll explore how his experiences in the Marine Corps contributed to what he's doing today. He's deeply involved with an organization called Warriors Heart, which helps members of the "military class" (including law enforcement and first responders as well) heal. We talk an important way in which property managers can contribute to this vital and life-changing program.