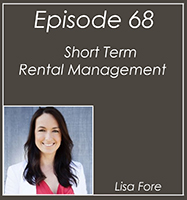 Lisa Fore from San Diego joins me today to talk about the management side of short-term rentals. An expert in this space, Lisa has been managing around 120 short-term rental single-family homes for years. In fact, her grandmother started the company, so Lisa is as familiar as it gets with this field. If you're interested in learning anything more about short-term rentals, this is absolutely the episode for you!
I love offering listeners fantastic benefits, such as some great discounts for products, with new offers coming all the time! You can see a complete list atpropertymanagementmastermind.com. For all of these offers, use the discount code "Brad" to secure your discount. Also, don't miss our Pulling Back the Curtain Conference in August in Denver, Colorado. You can learn about that on the site, too!
We'll learn today about how Lisa handles the short-term management side of her company, including how many staff members are dedicated to this aspect. She points out that short-term rentals are similar to hotels in terms of how you need to think of them, rather than being like long-term rentals. (Even if this means rushing a potato-peeler over to a rental property on a moment's notice.)
An important topic we'll dig into is how to get started in the short-term rental space. If you're a traditional property manager and haven't yet dipped your toes into this area, Lisa's insights into what to look for and how to proceed will be absolutely invaluable. You'll also hear about various other topics including the necessary mindset shift for short-term rentals, what lessons Lisa has learned from her experiences, and much more.
Show Notes
[02:07] - Brad welcomes listeners to the show and introduces Lisa Fore, today's guest.
[03:23] - Lisa gives listeners some background into who she is and how she got started in property management.
[04:48] - We hear more about the short-term management side of Lisa's company. Lisa also digs into the difference in mindset that you need to manage short-term rentals.
[09:37] - What advice would Lisa give someone who wants to start from scratch in the short-term rental space? How do you furnish a short-term rental?
[12:36] - Lisa talks us through some of the small things that you need to provide in a short-term rental.
[14:29] - If someone calls Lisa up complaining that they're missing a potato peeler, will someone run a potato peeler over there?
[15:53] - We learn about some of the challenges in implementing the short-term rental mindset in a corporate setting.
[16:56] - Lisa addresses whether she has a management agreement with the property owners of these rentals.
[18:51] - Does Lisa's management company help owners with the licensing process? What are some of the insurance considerations to keep in mind?
[21:53] - Lisa talks about whether she uses a separate platform for short-term rentals and accounting.
[25:35] - Brad takes a moment to chat about casting a bigger net, which he and Lisa talked about before the episode.
[29:17] - We hear about one of the biggest lessons that Lisa has learned over the course of her career, as well as whether she ever gets blamed for missing furniture.
[32:18] - Lisa shares a funny story about something that happened in her short-term rental company.
[35:43] - Is the industry a money-maker for most of the owners who Lisa works with? How many nights per month are most rentals occupied?
[38:35] - Lisa talks about renting to locals, and potential issues with neighbors, parties, noise, and so on.
[43:01] - How can someone reach out to Lisa to learn more or get her help with getting a short-term rental business going?
Links and Resources:
Property Management Mastermind
Property Management Mastermind Group on Facebook
(619) 988-6708 (Allison DiSarro from Seacoast Commerce Bank)
(918) 728 8992 (Derek Scott with Insurance Management Group)
(760) 525-9134 (Lisa's phone number)