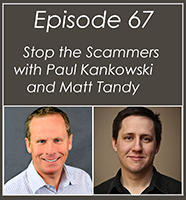 Paul Kanowski and Matt Tandy both come from property management companies in California. Today, they're both on the show to chat about stopping the scammers, specifically what we're seeing in the self-assisted and unaccompanied showing systems that's causing scammers to target these vacant homes.
I love offering listeners fantastic benefits, such as some great discounts for products, with new offers coming all the time! You can see a complete list atpropertymanagementmastermind.com. For all of these offers, use the discount code "Brad" to secure your discount.
Paul has about 180 homes, and Matt has about 300. Both of them have been seeing a rise in scams recently, and they expect the trend to spread outside of California and into the rest of the country. So even if you haven't yet experienced the scams we'll be talking about, get prepared ahead of the game by tuning into this episode.
As you'll learn today, the scam that happened to Paul was elaborate and involved several people getting duped. The one that happened to Matt is similar in some ways, and involves scammers who have no conscience whatsoever, as he discovered when he posed as an old man. And don't think that this scam is limited to self-showings; nothing is stopping someone from kicking in the back door and running a scam that way.
Pricing is your biggest deterrent. The longer a home sits vacant, the more likely it is that it'll end up with break-ins or scams. If you're looking to get price adjustments from your owners for homes that have been sitting this long, try pointing this important fact out to them! Tune into this episode to learn other important methods to avoid (or at least minimize) scams.
Show Notes
[02:07] - Welcome to the show! Today we have not one, but two guests: Paul Kanowski and Matt Tandy.
[03:32] - Paul takes a moment to introduce himself and explain that he and Matt have been experiencing scams in different ways.
[04:18] - We hear Matt's introduction to who he is and where he works.
[05:04] - Brad, Paul, and Matt mention which vendors they use.
[06:06] - Paul digs into the topic of today's episode by describing the complex scam that he's seen in self-showing homes.
[10:17] - We hear a clarification that the payment sent to the scammer was a bank wire.
[11:56] - Paul describes the notification letter that he places in his self-showing homes to explain to people that they're getting scammed.
[12:51] - The scam that Matt has seen has been different in some ways, he explains.
[17:46] - Because the rental scams are under the dollar amount that the federal government will investigate, the scammers can keep doing this, Matt explains.
[18:41] - How were the scammers changing Matt's locks in the middle of the night?
[21:41] - These scams aren't limited to people using a particular showing system, Matt explains.
[22:40] - Paul shares another story about a scam that he has experienced.
[24:35] - We hear Matt's theory on how people get involved in these scams, as well as a surprising fact: they've had less problems since using self-showing systems than before.
[27:30] - Brad takes a moment to talk about the self-showing system as a whole.
[28:51] - Self-showing rents quicker, Paul points out, which reduces the opportunity for scams.
[31:15] - We learn about how the self-showing system can save money for property managers.
[34:04] - Paul takes some time to comment on the safety aspect of showings, pointing out that there are crazy people out there.
[38:31] - What do Paul and Matt think of the strategy of watermarking photos as a deterrent to scammers? Both guests answer, then Matt talks about the camera system that he likes to use on vacant properties.
[44:32] - As cameras become more affordable, we'll see more managers and owners looking to use them, Brad points out.
[45:25] - Would a credit card sign up at the beginning of an unaccompanied vacant home showing have any sort of effect?
[47:27] - Are there any other prevention methods that we should talk about in today's conversation?
[50:54] - Paul loves self-showing, he explains, and would make all of his houses self-showing if he could.
Links and Resources:
Property Management Mastermind
Property Management Mastermind Group on Facebook
(619) 988-6708 (Allison DiSarro from Seacoast Commerce Bank)
(918) 728 8992 (Derek Scott with Insurance Management Group)