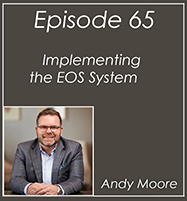 Andy Moore is a property management company owner in Florida. He's joining me today to talk about implementing the EOS, or Entrepreneurial Operating System. He's an authorized teacher of the system, and qualified to help you implement it, so don't miss this value-packed episode!
I love offering listeners fantastic benefits, such as some great discounts for products, with new offers coming all the time! You can see a complete list atpropertymanagementmastermind.com. For all of these offers, use the discount code "Brad" to secure your discount.
Originally from England, Andy worked as a detective there before making a career switch. He bought a US property as a vacation rental, but couldn't find anyone to manage it up to his standards. So he got a visa, came on over, and started his own property management company.
In our conversation today, Andy talks about the cycle of growth. If you think of a person growing, or recall your younger days, you'll think of a cycle that involves growth spurts alternating with periods of less growth. He compares this to the growth of a company, and explains that in the EOS framework, you (as a business) either grow or you die.
If you're wondering whether EOS is right for you, don't miss this episode! Andy will help you assess whether EOS is the right fit for your company. As he explains, the system's sweet spot is for companies between $2 million and $50 million in revenue, and 10 to 250 employees. He'll also explain how to implement EOS, which you can either do on your own or by engaging an implementer (like Andy himself!).
Show Notes
[02:18] - Welcome to the episode! Today's guest is Andy Moore, a property management company owner.
[03:19] - Andy takes a moment to thank Brad for his contributions.
[03:57] - Where is Andy originally from? How did he end up with a property management company in the United States?
[05:33] - Andy talks about his company and the background he's coming from in that regard.
[06:48] - We hear more about the size of Andy's company, including how many doors and employees he has.
[08:44] - Andy digs into some of the pain points that people need to shift, and explores how EOS can help them.
[10:55] - Brad talks about some ways that he can relate to what Andy has been saying.
[12:47] - We hear more about how EOS can help companies in the types of situations that Andy and Brad have been talking about.
[16:57] - What size should a company be to use EOS, and what are the triggers to indicate that a company needs EOS?
[19:43] - Andy walks listeners through the EOS process.
[24:27] - We hear more about the meetings involved in EOS, and how they can be a powerful advantage for a company.
[27:13] - Andy talks listeners through the process of implementing EOS, which you can do in several ways.
[30:01] - We learn about how long it takes to get going with EOS and when new users can expect to see results.
[32:40] - Brad talks about his experience in picking up a large company mentor this year.
[35:16] - We hear about the discount that Andy is offering listeners! To get a 10% discount, use the discount code "Brad."
Links and Resources:
Property Management Mastermind
Property Management Mastermind Group on Facebook
(619) 988-6708 (Allison DiSarro from Seacoast Commerce Bank)
(918) 728 8992 (Derek Scott with Insurance Management Group)
Gulf Coast Property Management