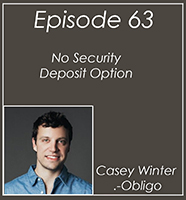 I'm joined by Casey Winter from Obligo for today's conversation about using Obligo as billing authorization technology, and developing a plan for a no-security-deposit option. Casey's background is in the technology side of multi-family and single-family homes, and he's been in the industry for over a decade. In other words, he has good working knowledge of the single-family home industry!
I love offering listeners fantastic benefits, such as some great discounts for products, with new offers coming all the time! You can see a complete list atpropertymanagementmastermind.com. For all of these offers, use the discount code "Brad" to secure your discount.
As Casey sees it, the security deposit requirement is outdated, inefficient, and typically unnecessary. This aligns with what I've been thinking about, which was trying to figure out the best way to create a no-security-deposit option. We stumbled across Obligo and implemented their billing authorization technology, which Casey will describe in more depth in this conversation.
Traditionally, the way around charging a security deposit involves a form of insurance. This isn't necessarily bad, Casey explains, but doesn't suit many tenants. On the other hand, Obligo only works with renters that they (and the property management company) feel comfortable with, which allows them to keep their prices lower than the traditional 17%. This also allows you to set your own risk factor.
We'll spend some time today digging into how Obligo works, exploring the process from their own end, for the tenant, and for the property manager. Casey will talk about whether there are fees and costs for the property management company, how long it took to develop their product. We'll also explore how Obligo can work for renewals, and how Obligo works when the tenant vacates or when the property management company and landlord part ways.
Show Notes
[02:06] - Casey Winter joins Brad today for a conversation about Obligo and a no-security-deposit option.
[03:08] - We learn about who Casey is, which company he works for, and what he does. He'll also talk about why Obligo wants to eliminate the security deposit.
[06:06] - Casey explains the concept of security deposit replacement, and goes into more depth about billing authorization technology.
[07:45] - Brad jumps in for a moment to clarify how security deposit insurance works.
[09:54] - We hear more about a cash judgment and how it works in the case of deposit insurance.
[11:20] - Casey shares his elevator pitch on what Obligo is and how its billing authorization technology works.
[15:05] - We learn about how the Obligo process works, and how it allows both property management companies and Obligo to mitigate risk.
[18:40] - Casey talks more about the credit and banking check that Obligo performs for each tenant.
[20:44] - Brad explains the next steps of the process, both for approved and non-approved renters.
[21:49] - Casey digs into the process of getting money in depth for each of Brad's two possible scenarios.
[25:06] - Are there any fees involved in Obligo sending the deposit money to the property management company or landlord?
[26:25] - We hear about how long it took to develop Obligo.
[29:09] - What happens when the tenant vacates?
[31:45] - Casey talks about whether there's room for a full-blown inspection in the report sent to the tenant with the final billing report.
[32:28] - What happens if the tenant can't or refuses to pay, or if there isn't enough money in their bank account or credit card?
[33:20] - Brad talks about some best practices that he has implemented using Obligo.
[35:27] - Casey explains what happens if an owner fires a property management company while using Obligo for the security deposit.
[37:55] - We learn more about the process of implementing Obligo.
[41:23] - Casey talks listeners through how they can get in touch with him or learn more about the next steps.
Links and Resources:
Property Management Mastermind
Property Management Mastermind Group on Facebook
(619) 988-6708 (Allison DiSarro from Seacoast Commerce Bank)
(918) 728 8992 (Derek Scott with Insurance Management Group)