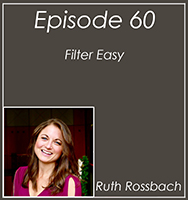 Ruth Rossbach from FilterEasy joins me today for a very important reason: to finalize the debate of whether pineapple belongs on pizza! (The answer: there absolutely shouldn't be pineapple on pizza. Ever.) Of course, there's not enough to say about that to fill up a whole episode, so we'll need to talk about other topics as well.
I love offering listeners fantastic benefits, such as some great discounts for products, with new offers coming all the time! You can see a complete list atpropertymanagementmastermind.com. For all of these offers, use the discount code "Brad" to secure your discount.


Ruth has worked at FilterEasy since April 2017, and is a regional sales manager covering areas including Phoenix, Utah, and Nevada. She grew up in Raleigh, and wanted to work for a locally based company. She also wanted to be part of a company that provides solutions and reduces stress for tenants and managers, so FilterEasy was a perfect fit for her.
As she explains today, usually only 5% to 10% of tenants change their filters on time. When FilterEasy gets involved, that number skyrockets to over 90%. This lengthens the life of the HVAC system, so property managers and owners alike love it. It's also always cash flow positive for property managers thanks to the pricing structure that Ruth will explain in detail in today's conversation.
We also dig into various other topics related to FilterEasy including who should cover the cost, how owners and tenants tend to react and respond, the way that the sign-up and implementation process for FilterEasy works, how the timing works on FilterEasy's billing strategy, and more. If you've ever wanted an air filter solution that works for the tenant, the owner, and the property manager, don't miss this episode!
Show Notes
[01:36] - Welcome to the show! Today's guest is Ruth Rossbach from FilterEasy. She and Brad chat about whether pineapple belongs on pizza.
[03:18] - Ruth talks about who she is and what she does.
[05:35] - What is FilterEasy, what can they do for property managers, and what does Ruth do with them?
[07:37] - The filters are date/time stamped, Ruth explains, so you can hold tenants accountable.
[08:40] - Ruth digs into best practices for getting FilterEasy the measurements they need to supply the right filters.
[10:37] - We learn about FilterEasy's pricing structure, and why it's always cash flow positive for the property manager.
[12:47] - Ruth talks about what she commonly sees with implementation to reduce costs for the tenant. Brad then mentions the option of billing it to the owner, who gets benefits in reduced HVAC costs.
[16:02] - Brad shares another point about the option of charging the owner, and reasons why it might not go well.
[20:29] - What kind of platform do users go into to enter their information when getting started with the FilterEasy system?
[22:55] - We learn about how billing works for property management companies in terms of timing.
[24:30] - Does Ruth have any success stories that she wants to talk about?
[27:08] - Brad points out some things you need to keep in mind when you're adding things into your lease agreement.
[30:14] - We hear Brad's response to Ruth's point about owners forgetting to change their own air filters.
[30:59] - Tenants will get an email reminder when their filters get sent out, Ruth explains.
[32:33] - What's the easiest way to get in touch with Ruth and start using FilterEasy?
Links and Resources:
Property Management Mastermind
Property Management Mastermind Group on Facebook
(619) 988-6708 (Allison DiSarro from Seacoast Commerce Bank)
FilterEasy for Property Managers and Realtors