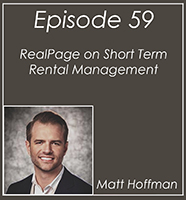 Matt Hoffman, who works with RealPage and is the head of short-term rentals for Kigo, joins me to talk about the short-term rental market works. What's interesting about Kigo, Matt points out, is that they can leverage and benefit from all of their knowledge and expertise in long-term rentals as they build technology to advance the short-term rental side.
I love offering listeners fantastic benefits, such as some great discounts for products, with new offers coming all the time! You can see a complete list atpropertymanagementmastermind.com. For all of these offers, use the discount code "Brad" to secure your discount.
The short-term rental market and the long-term rental market are in conflict, so Matt's position in spanning both offers him an interesting perspective. He'll elaborate on this, and explain that the typical short-term rental owner is someone who vacations regularly or doesn't live in the home full-time, and wants to rent out their home while they're not present. His software, he explains, is geared toward both DIY landlords and short-term management companies.
Matt will also dig into whether you can run short-term rentals as a brand, or whether you need an individual person to do it, and explore the sweet spot for number of nights rented in short-term rentals. Importantly, he'll also share his thoughts on the question at the top of all of our minds: what if short-term tenants do damage?
Other topics we'll cover include reviews (which go both ways), check-in best practices and automation, how insurance might work for short-term fully furnished single-family rentals, the increasing number of regulations governing short-term rentals, and more! Matt also shares some powerful words in his final takeaway for listeners who are considering entering the world of short-term rentals.
Show Notes
[01:39] - Brad introduces today's guest, Matt Hoffman, and explains that the episode will be all about how the short-term rental market works.
[03:21] - Matt gives an intro to who he is, what he does, and some background on what he's been doing with short-term rentals.
[05:16] - We hear Matt's thoughts on the differences between short-term and long-term single-family rentals, as well as the impact of the local market.
[07:27] - Who typically owns a short-term rental?
[09:03] - Matt talks about who is software is geared toward, and shares some things that he would tell a single-family-home property owner or manager to encourage them to go down this road.
[13:32] - Brad takes a moment to go over some math that illustrates the potential profit and costs in short-term rentals.
[15:31] - Does it work to assign a portfolio manager to run the short-term rental department?
[18:45] - We learn about whether it's better to be a superhost on short-term rental sites, and how that works when you're a brand rather than an individual.
[21:20] - Matt talks about how Kigo is different from other property management softwares.
[26:21] - What do you do when the short-term tenants leave a lot of damage when they depart the property?
[30:18] - Matt shares his thoughts on the mindset shift in terms of price, getting good reviews, and so on.
[32:50] - Brad points out that reviews work both ways.
[37:45] - Does Matt's software integrate into all the well-known short-term booking sites?
[40:20] - Matt talks about insurance issues for a short-term rental unit that's fully furnished.
[43:12] - We hear more about legislation and the increasing regulations governing short-term rentals.
[48:15] - Matt offers one takeaway for listeners considering the world of short-term rentals.
[50:56] - Which market really wows Matt?
[52:14] - Matt talks about where listeners can find him and Kigo.
Links and Resources:
Property Management Mastermind
Property Management Mastermind Group on Facebook
(619) 988-6708 (Allison DiSarro from Seacoast Commerce Bank)