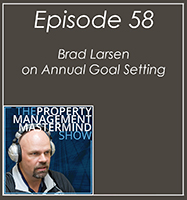 Your guest in today's episode is… me! I want to take some time to talk to you one-on-one about goals, a topic near and dear to my heart. Every year, I sit down to go through what I did last year and what I want to do in the new year. I also bring in accountability partners who will help me keep on track with my goals. Today, I'll talk about goal-setting with specifics for the property management industry. You can become my accountability partner, and I'll be yours as needed.
I love offering listeners fantastic benefits, such as some great discounts for products, with new offers coming all the time! You can see a complete list at propertymanagementmastermind.com. For all of these offers, use the discount code "Brad" to secure your discount.
It's important to set a SMART goal. Tune in to hear what it means for a goal to be specific, measurable, attainable, relevant, and time-bound. I'll relate all of this to property management specifically, so you can hear what goals can look like in this industry instead of in vague generalities.
While setting a SMART goal is invaluable advice, I'm not going to keep things that broad. Hearing real examples of SMART goals in property management can help you understand how they might work for your company, and that's another part of what I'll offer today. I'll go over my 2018 goals (both personal and professional) and share my wins and losses.
Tune into this episode to hear all about goals across various aspects of the business, from retention to business development to maintenance. I'll also discuss my goals for 2019, which include reaching 1,100 homes by the end of the year. Don't miss this episode, which could help you make 2019 the best it can be both professionally and personally!
Show Notes
[01:37] - Brad welcomes listeners to the episode, which is all about goals.
[02:42] - We hear about the "SMART" acronym for goal-setting, which stands for specific, measurable, attainable, relevant, and time-bound.
[06:54] - Brad digs into the "relevant" and "time-bound" parts of the SMART goal concept, and talks about relating this to property management.
[09:15] - We hear a quick review of each part of a SMART goal, and some further recommendations on goal-setting.
[12:22] - Brad shares the recommendation of finding a role model or mentor, and gives an example from his own experience.
[15:32] - Another of Brad's bulletpoints is to read, listen, and continually learn. Another is to keep a positive attitude!
[20:00] - Brad goes through his 2018 goals and talks about the wins and losses.
[23:41] - One of Brad's goals involved family trips, he explains. He also gives examples of marriage goals.
[25:34] - Brad didn't achieve all of his financial goals in 2018, but he did start to make quarterly payments to the IRS. He then shares what his business goals were for 2018.
[27:12] - We hear another recommendation for writing down your goals for the year.
[33:00] - Another of Brad's goals was to establish retention goals of less than 10% losses.
[33:50] - Brad shares some of his 2018 business development goals.
[39:19] - One of the maintenance goals that Brad had related to open work orders percentage related to homes managed.
[41:49] - Brad takes some time to talk about his goals for 2019.
[45:14] - We learn about the goals that Brad has set up for his team members in Mexico.
[47:27] - Brad challenges listeners to write down their own goals for 2019.