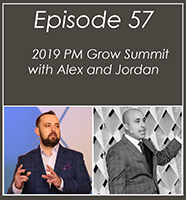 I'm sure you're already familiar with Alex Osenenko and Jordan Muela, since they're such important figures in the property management world! Today, both of them join me to talk about the upcoming 2019 PM Grow Summit, which will take place in Austin, TX. (As usual, use the discount code "Brad" to get a discount!)
I love offering listeners fantastic benefits, such as some great discounts for products, with new offers coming all the time! You can see a complete list at propertymanagementmastermind.com. For all of these offers, use the discount code "Brad" to secure your discount.
We'll talk about what the PM Grow summit is, who some of the guests and speakers will be, and what the experience of networking there is like. If you're deciding whether to attend (which I absolutely recommend), tune into this episode to learn more about what to expect so you can make an informed decision. If you're already planning to go, this conversation will help get you even more excited for what's to come!
On the off chance that you're not familiar with them, Alex and Jordan run the PM Grow Summit. Jordan also runs LeadSimple and ProfitCoach, while Alex is the CEO of Fourandahalf, but our focus today will be on the summit rather than their other activities. They'll start off by describing who PM Grow Summit is for and why they deliberately keep it to a specific size.
Other topics we'll include the currently announced speakers for the events (including which ones we're most excited about), how the PM Grow Summit is different from other conferences, Jordan's benchmarking study and the next steps that have been growing out of it, and much more about the conference.
Here's where you can find today's guests:
Show Notes
[01:46] - Today, Alex and Jordan join me to talk about the upcoming 2019 PM Grow Summit in Austin, TX.
[02:54] - Alex, Jordan, and Brad lightheartedly chat a bit about last names and shirts.
[04:56] - We learn about who the PM Grow Summit 2019 is for, so listeners can identify whether they're the ideal audience.
[07:15] - We're in an era where we have to accept that companies outside of the vertical are setting customers' expectations for property management companies, Jordan points out.
[09:06] - After having been to the PM Grow Summit before, what seemed different to Brad about it as opposed to other conferences?
[12:49] - Jordan responds to Brad's story about some improvements he's making in his company.
[13:42] - Alex talks about the guest lineup for the upcoming PM Grow Summit.
[15:03] - Which of the currently announced speakers is Jordan most excited about? What about Alex?
[19:27] - Brad mentions Scott Fritz, another confirmed speaker at the event. He then mentions what he'll be talking about at the conference.
[24:19] - Are you selling property management, or are you selling financial outcomes? We hear about why the answer to this question matters, then Alex talks about fee-maxing.
[25:48] - Brad and Jordan talk about Jordan's benchmarking study and the ways that Brad is using it.
[29:08] - Alex talks about the decision to hold the event in Austin, and Jordan discusses the specific venue itself.
[30:40] - What evening events do Alex and Jordan have lined up?
[33:13] - We hear final details such as the dates and where to find the conference online.