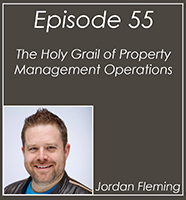 Today's guest is Jordan Fleming from Boost PM. I've been super impressed with what they do with Podio and implementing it into property management businesses. This is an amazing episode that you'll definitely want to pay attention to, even if it's something you won't use for months to come. Jordan and I will talk about implementing different aspects into your business in terms of getting workflow automation into your business.
I love offering listeners fantastic benefits, such as some great discounts for products, with new offers coming all the time! You can see a complete list at propertymanagementmastermind.com. For all of these offers, use the discount code "Brad" to secure your discount.
Jordan is originally Canadian, but has lived in four countries (and currently resides near Warsaw). He explains that his company grew out of getting introduced to property management companies that needed help with Podio, and found gaps in the existing systems. This led him to launch Boost PM to provide an easy entry into workflow automation. This is what we see as the holy grail of what everyone wants in the property management industry!
If you're not already sold on the idea of automating your workflow, you will be by the time you're done listening to this episode. Jordan will go through everything from onboarding, implementation (and the associated timeframe), what you should expect in terms of improvements once the system is implemented, the value of being able to shrink how many systems you're using, and the cost of using Boost PM (as well as the generous discount that he's offering to listeners of this podcast).
Here's where you can find today's guest:
Show Notes
[01:46] - Brad introduces Jordan Fleming, today's guest.
[02:34] - Jordan came all the way from Warsaw to San Diego hoping for sun, he jokes, and ended up with fog.
[03:54] - We hear what Boost PM does for the property management industry.
[06:32] - Jordan talks more about the implementation of Podio inside of people's businesses.
[08:25] - We learn Jordan's answer to Brad's question: why Podio? Jordan then talks about how the flow works.
[12:03] - Jordan shares his thoughts on various property management softwares and their integration opportunities.
[14:21] - At Brad's request, Jordan explains the ticketing system.
[16:43] - Brad brings up implementation, and Jordan talks about what people should expect in terms of an implementation timeframe.
[18:29] - What should somebody expect at the end of this in terms of quantifiable improvements?
[22:28] - Jordan follows up on a point that Brad has made with a critical point that they see frequently.
[24:04] - Is Jordan on the schedule to talk at any upcoming conferences?
[25:10] - Jordan talks us through his pricing and the amazing discount he can offer to listeners of this podcast.
[27:28] - Does Jordan have any success stories that he wants to share with listeners?
[29:56] - Jordan suggests the best way to reach him if you want to learn more or get started with Boost PM.
[32:55] - Jordan shares his parting thoughts for listeners.