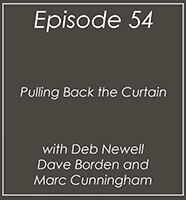 Before we start today, I want to tell you about our upcoming conference! Pulling Back the Curtain will take place in January 2019 in Atlanta, GA. I'm one of the four speakers at the event, and I'll be talking about the sales tactics that have helped us grow by adding more than one door per day for the last two years.
I love offering listeners fantastic benefits, such as some great discounts for products, with new offers coming all the time! You can see a complete list at propertymanagementmastermind.com. For all of these offers, use the discount code "Brad" to secure your discount.
In fact, this conference is the subject of the episode! I'm joined today by the other three speakers who will be there, and we'll talk about what we'll be doing there in detail. At this conference, we're dedicated to providing our audience with the best possible information from people who are actually running successful property management companies.
In our conversation today, the four of us will take turns talking about what we're planning to present at the conference in January. After each of us presents our subject, the other three will go around and share their biggest takeaway from our previous presentations.
At the upcoming conference in Atlanta, you'll learn about how to make a super-site for your property management, how to measure the health of your company and what to do about the results, how to get more business, the importance of getting good processes and systems in place (and how to do it), and much more. If you've wondered at all about what we'll cover, don't miss this episode!
Because we each take a turn sharing our biggest takeaway from each other's previous presentations, you'll get a powerful sense of exactly the sorts of things you'll learn and be able to apply within your own business. This gives a unique view of the presentations: not only do you hear exactly what the presentation will be about from the presenter, but you also hear the sorts of powerful, business-changing takeaways that you can expect to get from each of us at the conference from people who have actually learned these things.
Here's where you can find today's guests:
Show Notes
[01:46] - Brad introduces today's episode and the three guests who are joining him for the conversation.
[03:06] - David takes a moment to elaborate on the goals of the upcoming conference.
[05:54] - We hear seven of the things related to super-sites that David will talk about in his presentations at the conference.
[07:29] - What is a sommelier (the term David used a moment before)?
[07:58] - Brad shares a takeaway that he got from last year's presentation.
[08:53] - Marc takes a turn sharing a takeaway from last year, then David shares another goal for the conference.
[10:15] - We hear Deb's takeaway from David's presentation last year. Deb then talks about what her presentation at the 2019 conference will be about.
[13:17] - Marc digs into what Deb has been talking about in terms of measuring the health of your company.
[14:44] - Brad and David takes turns talking about what they picked up from Deb's presentation.
[16:27] - We learn what Brad's presentation at the upcoming conference will be about.
[17:46] - Continuing with the pattern of talking about each other's presentations, Marc talks about what he's learned from Brad.
[19:38] - David takes his turn talking about his main takeaway from Brad's presentation.
[22:14] - Marc describes what he'll be talking about in his session at the Atlanta conference.
[25:16] - Brad shares something that he learned from Marc's presentation last year.
[25:56] - Deb takes her turn talking about Marc's presentation, followed by David.
[27:25] - Brad proposes a competition at the upcoming conference for who comes up with the best, funniest joke.
[29:08] - One of the benefits of the conference is that the presenters will be around for networking, Brad points out.
[30:09] - We hear some elaboration and clarification about day two of the conference.
[31:38] - Does anyone in the group have any parting comments for listeners?