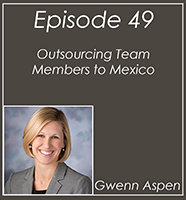 Gwenn Aspen joins me today to talk about sourcing Mexican talent to help you. Some people like to call them virtual assistants, but we prefer to think of them as virtual team members! Gwenn will help you understand more about the benefits and process of working with people in Mexico to help you run your property management business. At our company, we have nine team members in Mexico, so this is something I definitely personally endorse!
I love offering listeners fantastic benefits, such as some great discounts for products, with new offers coming all the time! You can see a complete list atpropertymanagementmastermind.com. For all of these offers, use the discount code "Brad" to secure your discount.
This Podcast Show is for Property Managers focusing on Single Family Homes that will include key vendor interviews, best practices, insights, new trends, and exciting ideas to help you grow and run a more successful business.
One more announcement before we get started! Our newest product at Property Management Mastermind is the Business Development Toolkit. In 2017, RentWerx organically grew by over 360 homes. In 2018, we're on pace to grow another 500 homes. And best of all, we've done all of this without going out to meet the people and earn the business one door at a time. Tune in to learn more, or check out the toolkit online! If you aren't completely satisfied with the product, we'll give you a 100% refund.
Gwenn and her husband have their own property management company, Wistar Group, in Omaha, Nebraska. Their company manages about 1300 units. About two years ago, they started another company, Anequim, which sources remote assistance from Mexico for property management companies. Tune into the episode to learn how Anequim has grown from there!
Lots of people operate under the assumption that virtual team members are limited in what they can do. What we do, and what Gwenn emphasizes, is that a virtual team member can be just as skilled and multi-talented as an on-site employee. We'll also talk about the questions of accents in Spanish-speaking team members. We've had zero complaints about accents in two and a half years, and hiring bilingual team members can be a huge benefit!
Listen in to this episode to hear much more about hiring, training, keeping, and working with virtual team members from Mexico! This answers a lot of the hot questions that have been going around lately, and I look forward to sharing this powerful information with you. You'll also learn how to work with Gwenn, and how to get a discount on her services!
Here's where you can find Gwenn:
Show Notes
[03:18] - Gwenn introduces herself and explains what she does, and how she and her husband started their company.
[05:35] - Brad talks about where and how he and Gwenn met, then Gwenn talks more about how her husband formed his connections in Mexico.
[08:54] - We hear about some of the cultural differences between the US and other countries, as well as Brad's experiences with some of his virtual team members.
[11:05] - How much does it cost?
[13:35] - The average American company treats these team members better than the average Mexican company, Gwenn explains.
[15:51] - Brad illustrates the point that Gwenn has been making, and then she further emphasizes the links between Mexican and American cultures and workers.
[17:24] - What is the range of things that these virtual team members can do?
[20:37] - Gwenn talks about the training process that she goes through with her virtual team members.
[23:39] - We hear more about Gwen's thoughts on accents and bilingualism. Brad then points out that they've had zero complaints about accents.
[25:31] - Brad takes a moment to talk about the power of voicemail.
[28:58] - Gwenn talks more about other roles that virtual team members can take on.
[29:54] - How can listeners get in touch with Gwenn?
Links and Resources:
(619) 988-6708 (Allison DiSarro from Seacoast Commerce Bank)