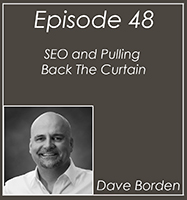 Dave Borden joins me today to talk about SEO, making leads, working with websites, what's going on in the property management world, and more. Dave is an entertaining guest who knows a lot, so we dig down in depth into these topics. I think you'll learn a lot from this conversation. I know I did!
I love offering listeners fantastic benefits, such as some great discounts for products, with new offers coming all the time! You can see a complete list at propertymanagementmastermind.com. For all of these offers, use the discount code "Brad" to secure your discount.
One more announcement before we get started! Our newest product at Property Management Mastermind is the Business Development Toolkit. In 2017, RentWerx organically grew by over 360 homes. In 2018, we're on pace to grow another 500 homes. And best of all, we've done all of this without going out to meet the people and earn the business one door at a time. Tune in to learn more, or check out the toolkit online! If you aren't completely satisfied with the product, we'll give you a 100% refund.
Dave works with PMW, or Property Manager Websites, which builds, manages, hosts, and maintains websites for about 1,200 property management companies nationwide. Even though Dave's company provides these sorts of services, this conversation is packed full of advice that you can use independently even if you don't choose to work with him.
We'll talk about owning the Google 3-Pack. If you aren't familiar with it, this is the set of three local business results that appears below the map when you do a Google search. About 25% of people click through on the mapping results, which show the businesses with the best quality score and the highest budget, so it's important to rank well in this section of Google's results page!
Listen in to learn how to optimize your website for today's important factors. You'll learn why mobile is more important than desktop these days, why loading speed matters so much, how to make the most of links to your site, and much more.
Here's where you can find Dave:
support@propertymanagerwebsites.com
Show Notes
[02:06] - Brad introduces this episode's guest, Dave Borden.
[03:18] - Dave gives a quick explanation of who he is and what he does, and Brad gives a brief intro of his background in using Dave's products.
[05:51] - Dave digs into the Google 3-Pack, explaining exactly what it is and why it's so important to own it.
[10:44] - We hear about the eight local pack factors that really matter, which you can see on this page.
[14:50] - Do you break out the sales side and the property management side of your business into a separate company/website?
[19:00] - We learn another reason to go after property management instead of real estate when it comes to Google SEO rankings.
[23:57] - Dave talks about how to get links, and how important it is.
[28:36] - Brad mentions a small event that he and Dave, among others, will be speaking at in Denver.
[31:53] - We transition into learning about some of the new things that are coming up with Dave's company, PMW.
[36:01] - Brad brings up the Matterport 3D tour, and Dave offers more SEO advice.
[42:31] - We learn about why mobile is more important than desktop these days, which may come as a surprise.
[49:10] - How can listeners reach Dave's team to learn more?
Links and Resources:
(619) 988-6708 (Allison DiSarro from Seacoast Commerce Bank)
support@propertymanagerwebsites.com
Moz 2017 Local Search Ranking Factors