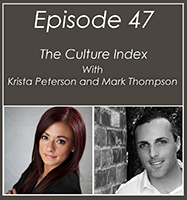 Today, I'm joined by two guests: Krista Peterson with Culture Index, and Mark Thompson, a property management company owner out of Cincinnati, Ohio. The reason I have both on together is that Krista will talk to us about how to analyze employees using the Culture Index and Mark has implemented that into his business and can give us real-world feedback on how it works.
I love offering listeners fantastic benefits, such as some great discounts for products, with new offers coming all the time! You can see a complete list at propertymanagementmastermind.com. For all of these offers, use the discount code "Brad" to secure your discount.
Property Management and Property Managers, Houses and Homes for Rent | The Property Management Mastermind Show propertymanagementmastermind.com This Podcast Show is for Property Managers focusing on Single Family Homes that will include key vendor interviews, best practices, insights, new trends, and exciting ideas to help you grow and run a more successful business.
One more announcement before we get started! Our newest product at Property Management Mastermind is the Business Development Toolkit. In 2017, RentWerx organically grew by over 360 homes. In 2018, we're on pace to grow another 500 homes. And best of all, we've done all of this without going out to meet the people and earn the business one door at a time. Tune in to learn more, or check out the toolkit online! If you aren't completely satisfied with the product, we'll give you a 100% refund.
Getting the right people in the right seats is one of the most important factors in growing your business, as well as one of the most difficult. This is why having a personality assessment for your employees, such as Culture Index, can be a key component in shaping the team that can take your property management business to the next level.
As Krista points out in this conversation, when you come from this perspective, the traditional hiring process is backwards. When you start by looking at things like work experience or school history, you're missing out on the most important fact: the personality component. When you filter applicants for a job by personality first, and then go through the other items on their resume, you can find someone who's a perfect fit for your team while spending less time on the hiring process.
Tune into this episode for a fascinating conversation into a tool that has the potential to transform your property management business. You'll learn about some of the features and benefits of Culture Index, what happens once you become a client, why using your gut might not be the best way to be successful, and best of all, how you can get a 30-day free trial of Culture Index!
Here's where you can find Krista and Mark:
Mark Thompson on LinkedIn
Show Notes
[02:06] - Brad introduces this episode's guests, Krista Peterson and Mark Thompson.
[04:07] - Krista tells us more about herself and what Culture Index does. Mark then talks about whether he has seen any improvements so far.
[06:05] - What else is out there that's similar to (or competition for) Krista's product?
[10:00] - Krista points out a key difference between Culture Index and other companies: they're in the solutions business, not just a testing company.
[13:45] - Mark talks about what he's learned about writing a good ad.
[16:14] - How long does it take Brad to onboard a property manager?
[17:47] - Mark gives an example using his main maintenance vendor, with whom he's been talking about the power of this process.
[19:43] - Is Mark cringing at all or concerned over the results for some of his team members?
[21:30] - We hear more about the amount of time it takes to onboard somebody, and how Krista's team can help.
[24:37] - Brad takes a moment to address the haters out there and their potential objections, and Krista explains how what she does is data-backed.
[26:27] - What are the next steps for a property management company owner who's interested in finding out more? Krista answers, then talks about their fee schedule.
[30:01] - Mark points out one of the benefits that got him interested in talking with Krista: that she was referred to him by another property manager, and clearly understands the business.
[32:42] - A forced-choice test increases your error rate, Krista points out, and explains why this is the case.
[34:10] - Mark shares a quick story about hiring a virtual assistant.
Links and Resources:
(619) 988-6708 (Allison DiSarro from Seacoast Commerce Bank)