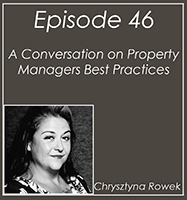 Chrysztyna Rowek is a regional vice president for NARPM, in addition to what she's doing in a management company in western Washington. Chrysztyna studied to become a Spanish teacher, but instead, started a cleaning company. Her company was hired to do the cleaning for a property management company, and after several years, the property management company's owner offered Chrysztyna a job there. She got her real estate license, then bought the property management company.
I love offering listeners fantastic benefits, such as some great discounts for products, with new offers coming all the time! You can see a complete list at propertymanagementmastermind.com. For all of these offers, use the discount code "Brad" to secure your discount.
One more announcement before we get started! Our newest product at Property Management Mastermind is the Business Development Toolkit. In 2017, RentWerx organically grew by over 360 homes. In 2018, we're on pace to grow another 500 homes. And best of all, we've done all of this without going out to meet the people and earn the business one door at a time. Tune in to learn more, or check out the toolkit online! If you aren't completely satisfied with the product, we'll give you a 100% refund.
In the 12 years since then, Chrysztyna has bought several other property management companies. In hindsight, she would have made these acquisitions differently, and offers words of wisdom to listeners who are interested in acquiring a company. Regardless of these difficulties, Chrysztyna is still torn on whether she prefers organic growth or acquisitions. In addition to property management, Chrysztyna has also started an in-house maintenance company, Athena Property Services. She's passionate about finding affordable housing for people who are living on fixed incomes, and keeping people in their houses whenever she can.
If you have any questions about how to do tenant screenings, this is a fantastic episode for you as well. Chrysztyna and I will take a deep dive into how to do tenant screening successfully and productively by relying on the criteria you've set instead of basing your decision on factors that may be unreliable. Factors that shouldn't make your decision for you include things like your intuition, car cleanliness, and sometimes even lack of rental history or criminal history. If this surprises you, listen in to learn why!
Tune in to this episode to learn how Chrysztyna found the property management companies that she acquired, the top few things you need to know and do when you're buying a property management company, her thoughts on tenant screening, best practices and some challenges for dealing with insurance, and much more.
Here's where you can find Chrysztyna: