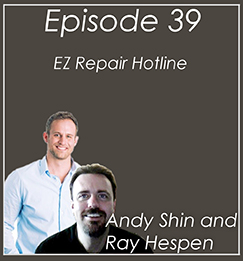 Today, I'm joined by both Andy Shinn with EZ Repair Hotline and Ray Hespen from Property Meld
I love offering listeners fantastic benefits, such as some great discounts for products. These include the PM Grow Summit, website production through Property Managed Website, showing services through Tenant Turner, and more, with new offers coming all the time! You can see a complete list of the current offers at propertymanagementmastermind.com. For all of these offers, use the discount code "Brad" to secure your discount.
EZ Repair Hotline coordinates maintenance and takes emergency calls for property managers. As a former property manager himself, Andy understands all too well that maintenance coordination can get in the way of growth. The company now offers four products, one of which specifically teams up with Property Meld.
As you'll learn in this episode, 31% of non-renewals are due to the maintenance experience. In fact, behind increases in rent price, this is the top reason that tenants don't renew. As you can see, providing tenants with a fantastic maintenance solution can make a big difference in renewal rates. In fact, we've seen this ourselves already; tune into the episode to learn how good our renewal rates have been.
You'll hear all about the benefits of having a maintenance company offering automated services like you'll get with EZ Repair Hotline and Property Meld, why it's important to be able to designate what is and isn't an emergency, how one work order can sometimes turn into two, and much more.
Here's where you can find Andy and Ray:
EZ Repair Hotline
andy@ezrepairhotlinellc.com
(800) 488-6032 (EZ Repair Hotline)
Andy Shinn on LinkedIn
Property Meld
Ray Hespen on LinkedIn