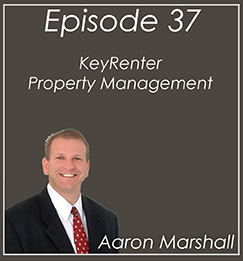 In this episode, you'll hear a fantastic conversation with Aaron Marshall of Keyrenter. If you've ever wondered about whether franchising is a good idea or how to get started, this is absolutely the episode for you! Aaron will go into depth about franchises, franchising, the various property management franchises that are out there, how they work, what the benefits are, and much more!...
I love offering listeners fantastic benefits, such as some great discounts for products. These include the PM Grow Summit, website production through Property Managed Website, showing services through Tenant Turner, and more, with new offers coming all the time! You can see a complete list of the current offers at propertymanagementmastermind.com. For all of these offers, use the discount code "Brad" to secure your discount.
Aaron has been in real estate since 2001, and in property management since 2007. He sold his extremely successful real estate business in May 2013 and started a Keyrenter franchise in December 2013. Since then, he has become an expert on franchising within the property management space, and he shares some incredible wisdom and insight into the realm in our conversation today.
For those just getting into real estate, starting with a franchise can be incredibly helpful. As Aaron explains, he helps people get into the business, set it up correctly with insurance and banking, assists with property management agreements and marketing, and much more. This saves people the trouble of fumbling through it for the first year or two and losing value during that whole period.
Aaron is wonderfully open about the specific costs involved in opening a Keyrenter franchise. There's no secrecy or vagueness about numbers in this conversation; he's clear and upfront about what a franchise costs, as well as the reasons that the cost is well worth it.
Tune in to learn much more about all this, as well as how to get started (whether you're new to the industry or already have a property management business), additional reasons why it can be so valuable to have a franchise, and more. Finally, Aaron will also offer a fantastic deal to listeners, so don't miss this episode!
Here's where you can find Aaron: