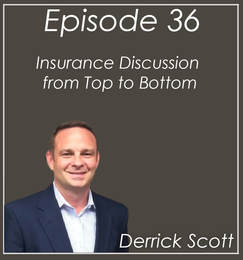 I love offering listeners fantastic benefits, such as some great discounts for products. These include the PM Grow Summit, website production through Property Manager Websites, showing services through Tenant Turner, and more, with new offers coming all the time! You can see a complete list of the current offers at propertymanagementmastermind.com. For all of these offers, use the discount code "Brad" to secure your discount.
I've known Derrick Scott for a while, but we've been getting to know each other better recently. Derrick is a property management company owner as well as an insurance company owner with over 25 years of experience in the insurance industry. He's particularly familiar with insurance as it applies to property managers in working with owners, tenants, and company stuff. We'll dive deep into the topic of insurance, especially the master policy concept.
We all know that you can require renters' insurance in your lease agreement, your tenants will show you a copy of the agreement, and then they'll go cancel the policy. The concept of having a master policy is a potential way of getting around this by having the management company act as the insurer. The problem with property insurance, or landlord insurance, is that some companies don't cover specific things like certain dog breeds, while others do. You may never know whether your policy covers these things unless you dig down deep. This sort of thing is what led Derrick to wanting to provide a solution for property owners that makes sure that vicious dog liability is covered.
We'll cover lots of other topics, too, such as whether you should carry errors and omissions insurance even if your state doesn't require it, some of the complicating factors surrounding workers' comp, which kinds of insurance you absolutely must (and definitely should) carry for your property management company, and much more! Tune in to learn more about this different aspect of property management and gain a deeper understanding of how to best protect yourself and your company.
Here's where you can find Derrick: