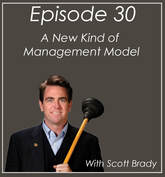 I love offering listeners fantastic benefits, such as some great discounts for products. These include the PM Grow Summit, website production through Property Managed Website, showing services through Tenant Turner, and more, with new offers coming all the time! You can see a complete list of the current offers at propertymanagementmastermind.com. For all of these offers, use the discount code "Brad" to secure your discount.
Before we dive into this episode, I want to take a moment to give you a quick update. On both of our websites, we're adding a couple of new tabs. One of these tabs will highlight all the upcoming seminars and conferences through various organizations. The other tab will direct you to our property management mastermind listserv on Google. It's a great no-holds-barred listserv where anything goes. Check out both of these new tabs to explore more of what we can offer!
My guest today is Scott Brady, a property manager from Southern California. Scott has been in the real estate business for over two decades, and jumped into the property management side of things about six years ago. As he'll explain in our conversation today, he changed the slant of his company to attract self-managing property owners once he learned that a shockingly high percentage of people self-manage their properties.
Scott will also talk about some fascinating things that he's doing in his marketplace that are a bit outside the norm. He veers away from the generic cookie-cutter thinking of many property management companies and doesn't hesitate to think outside the box. As a result, he's generating several different revenue streams for his business, of which property management is only one.
We're fortunate enough that Scott isn't shy to talk about the nitty gritty details and exact numbers. If you've been wondering exactly how the financial aspects of these things work, this is the episode for you. Scott will go into detail about how much (or how little) he makes in property management, how he compensates his agents and employees, and much more.
Here's where you can find Scott: