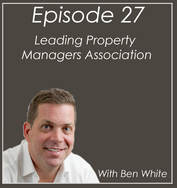 Today's show is sponsored by LeadSimple and Fourandahalf. Together, they've come up with one of the best conferences for property managers, called the PM Grow Summit. This event is laser-focused on growth strategies and brings together some remarkable thought leaders from around the country. I attended last year and was thoroughly impressed all around -- and that was just their first year! The next conference will be in San Diego in 2018, and I've already booked my spot. Go to pmgrowsummit.com to learn more, and enter promo code "Brad" to get a $100 discount on your ticket!
We're also sponsored by Marc Cunningham of Grace Property Management. Marc has created some amazing products for property management companies, which we can say firsthand as we've implemented his systems here. Visit their website and try out their products! To get a 10% discount on any of Marc's products, use the promo code "Brad"!
Today's special guest comes all the way from Australia! Ben White is the director of Leading Property Managers Association, or LPMA. He'll talk a lot about that association, as well as its US expansion efforts, in our conversation today! We'll also discuss their accounting standard project, which coincides with some of our efforts to standardize accounting practices within the industry.
If you've listened to the show, you've already heard me talk about the PM Grow Summit, which is one of my favorite conferences. Another of my absolute favorites is the conference put on by LPMA, which goes above and beyond almost anything else you'll see here. If you want to experience it for yourself, believe me, it's well worth the flight to Australia or New Zealand. In fact, Ben has even sweetened the deal by waiving the conference fee for property managers or property management company owners who are listening to the show.
In addition to talking about LPMA and its conferences, Ben will offer some fantastic insight into the industry. As we discuss in the episode, despite (or maybe because of) some striking and fascinating differences between the American and Australian markets, we can learn a lot from each other. Ben points out, for example, that your biggest competitor is no longer the best agency in your marketplace. Instead, your biggest competitor (and the one you need to fear) is the worst property management company, because the bad companies are dragging down the industry as a whole. To learn more about this, and other great tips and insights into the industry, tune into this episode!
Here's where you can find Ben: