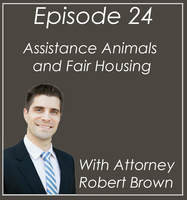 Today's show is sponsored by LeadSimple and Fourandahalf. Together, they've come up with one of the best conferences for property managers, called the PM Grow Summit. This event is laser-focused on growth strategies and brings together some remarkable thought leaders from around the country. I attended last year and was thoroughly impressed all around -- and that was just their first year! The next conference will be in San Diego in 2018, and I've already booked my spot. Go to pmgrowsummit.com to learn more, and enter promo code "Brad" to get a $100 discount on your ticket!
We're also sponsored by Marc Cunningham of Grace Property Management. Marc has created some amazing products for property management companies, which we can say firsthand as we've implemented his systems here. Visit their website and try out their products! To get a 10% discount on any of Marc's products, use the promo code "Brad"!
One question many of us struggle with regularly is that of service animals. For example, can a pit bull qualify as an assistance animal even though it may be considered dangerous? Can a twelve-foot python be an emotional support animal? What about a chicken, or a pig? Is it a reasonable accommodation to allow a blind tenant to keep a horse on the property if that is his or her primary mode of transportation?
Robert Brown, a local San Antonio attorney licensed here in Texas, joins me on the show today to talk about all this and much more. Before we go any further, let me just take a moment for a quick disclaimer: nothing in this episode should be considered legal advice. But it gives you a starting point for your research and decisions, and conversation points to touch on with your own attorney.
If you've ever wondered about questions related to reasonable accommodations for disabilities, service or emotional support animals, or how the process of having a claim filed against you works, tune into this episode. Robert is an expert whose services we use, so I can vouch for his ability to provide value-packed, insightful information!
Here's where you can find Robert: