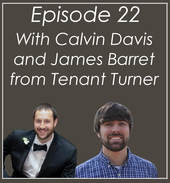 Today's show is sponsored by LeadSimple and Fourandahalf. Together, they've come up with one of the best conferences for property managers, called the PM Grow Summit. This event is laser-focused on growth strategies and brings together some remarkable thought leaders from around the country. I attended last year and was thoroughly impressed all around -- and that was just their first year! The next conference will be in San Diego in 2018, and I've already booked my spot. Go to pmgrowsummit.com to learn more, and enter promo code "Brad" to get a $100 discount on your ticket!
We're also sponsored by Marc Cunningham of Grace Property Management. Marc has created some amazing products for property management companies, which we can say firsthand as we've implemented his systems here. Visit their website and try out their products! To get a 10% discount on any of Marc's products, use the promo code "Brad"!
I know a lot of you have been curious about automating lock boxes and the tenant viewing process, so I've brought on some experts to talk about the subjects! Joining me today are James Barrett and Calvin Davis from Tenant Turner, a company I use myself and have been very satisfied with. James is the Head of Business Development at Tenant Turner, while Calvin is the Sales Director.
In our conversation today, James and Calvin will explain in detail what Tenant Turner does, how it can function in your business by providing solutions for some of the unaccompanied showing techniques you may want to use, and how they can save (and make) you money. If you're convinced after listening to them, sign up for their services using the promo code "Brad" to get a goodie package!
James and Calvin will also talk in depth about providing self-access for prospective tenants, automating some scheduling activities, the nitty gritty of using automated lock boxes for viewings, and much more. This is a value-packed episode that will answer lots of questions and provide insight into the future of tenant showings, so listen in!
Here's where you can find James and Calvin: