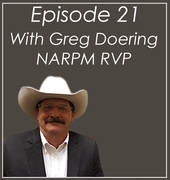 Today's show is sponsored by LeadSimple and Fourandahalf. Together, they've come up with one of the best conferences for property managers, called the PM Grow Summit. This event is laser-focused on growth strategies and brings together some remarkable thought leaders from around the country. I attended last year and was thoroughly impressed all around -- and that was just their first year! The next conference will be in San Diego in 2018, and I've already booked my spot. Go to pmgrowsummit.com to learn more, and enter promo code "Brad" to get a $100 discount on your ticket!
We're also sponsored by Marc Cunningham of Grace Property Management. Marc has created some amazing products for property management companies, which we can say firsthand as we've implemented his systems here. Visit their website and try out their products! To get a 10% discount on any of Marc's products, use the promo code "Brad"!
I have a particularly remarkable guest on the show for you today. Greg Doering is the Regional Vice President for NARPM in the Central Region, which has 10 chapters across more than a dozen states. He's also the owner and founder of GDAA Property Management, located in the North Austin (specifically Round Rock) area.
Since Greg has been a NARPM member for around a decade, he knew the ins and outs of the organization even before he became Regional Vice President. If you've listened to this show before, you've probably heard about NARPM at least in passing, but this episode is your opportunity to learn about the remarkable organization in depth from this long-time member who has ascended its ranks! Greg will talk about some of the ways to get involved with the leadership of NARPM, including sharing his own story. He also describes the benefits that can come from helping to lead NARPM (which is a volunteer rather than a paid position). Some of these benefits, as he'll point out, aren't limited to the organization's leadership.
With that said, we don't only talk about NARPM. Greg describes what it's like to work with his brother Jeff, who joined the company recently. We clear up some misconceptions about virtual assistants. Greg describes some of the changes and innovations that he's seen in the property management industry, and finishes things off with an inspirational message about why change is a good thing.
Here's where you can find Greg: