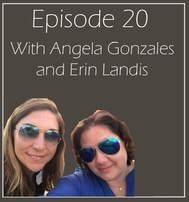 Today's show is sponsored by LeadSimple and Fourandahalf. Together, they've come up with one of the best conferences for property managers, called the PM Grow Summit. This event is laser-focused on growth strategies and brings together some remarkable thought leaders from around the country. I attended last year and was thoroughly impressed all around -- and that was just their first year! The next conference will be in San Diego in 2018, and I've already booked my spot. Go to pmgrowsummit.com to learn more, and enter promo code "Brad" to get a $100 discount on your ticket!
We're also sponsored by Marc Cunningham of Grace Property Management. Marc has created some amazing products for property management companies, which we can say firsthand as we've implemented his systems here. Visit their website and try out their products! To get a 10% discount on any of Marc's products, use the promo code "Brad"!
On the show today, I'm joined by Angela Gonzales and Erin Landis from Moxie Property Management out of Fort Worth (near the Dallas, Texas area). Erin and Angela started the company just a couple years ago, so it's still in its infancy time-wise, but they've already accomplished some remarkable things. As they put it, the company actually operates in dog years!
One of the reasons I wanted to have Angela and Erin on the show is that they're doing some different things that you might not have seen in other property management companies. They don't hesitate to think outside the box, as you'll hear in our conversation today. For example, part of Moxie involves doing consulting work for other companies and helping them manage their properties, meaning that they're far more than just a strict property management company.
In addition to talking about their consulting services and how they seamlessly blend these with their own property management, Erin and Angela discuss topics such as how they've grown their company so quickly, how they got started, why they realized they don't need a third partner, their roles in NARPM, and the tools they use to stay in communication with each other, their clients, and their tenants.
Here's where you can find Angela and Erin: