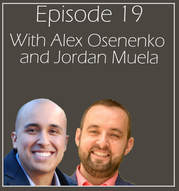 Today's show is sponsored by Marc Cunningham of Grace Property Management. Marc has created some amazing products for property management companies, which we can say firsthand as we've implemented his systems here. Visit their website and try out their products! To get a 10% discount on any of Marc's products, use the promo code "Brad"!
We're also sponsored by LeadSimple and Fourandahalf. Together, they've come up with one of the best conferences for property managers, called the PM Grow Summit. This event is laser-focused on growth strategies and brings together some remarkable thought leaders from around the country. I attended last year and was thoroughly impressed all around -- and that was just their first year! The next conference will be in San Diego in 2018, and I've already booked my spot. Go to pmgrowsummit.com to learn more, and enter promo code "BRAD" to get a $100 discount on your ticket!
That description of the upcoming conference is a perfect introduction to today's two guests, Alex Osenenko and Jordan Muela. Together, they represent the two companies coming together to put on the summit, with Alex coming from Fourandahalf and Jordan coming from Lead Simple.
Of course we'll talk about the summit in depth, with Alex and Jordan going over some of the remarkable speakers who will be attending, talking about the venue, and explaining why the weather alone should be a persuasive reason to attend!
Before that, though, we talk about many other topics relevant to anyone in the property management industry. We start off with a discussion of LeadSimple and its value for property managers in terms of efficiency, then cover various recent and upcoming trends within the industry. We address fee maximization and discuss the fact that customers are increasingly happy to do their showings themselves. Tune in for all this and much more with these two influencers in the property management world!
Here's where you can find Alex and Jordan: