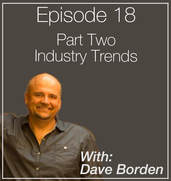 Today's show is sponsored by Marc Cunningham of Grace Property Management. Marc has created some amazing products for property management companies, which we can say firsthand as we've implemented his systems here. Visit their website and try out their products! To get a 10% discount on any of Marc's products, use the promo code "Brad"!
My guest on this episode is the remarkable Dave Borden, who was nice enough to come to town and go over some information on marketing for property managers. He's so full of information and great advice, though, that we decided to split the episode into two parts! This is part 2 of 2; part 1 aired last week.
This part is all about online best practices and industry trends. Dave and I dig deeply into how to do well online. We discuss what kind of domain name is ideal, as well as when you should (and, just as importantly, when you shouldn't) use redirects to bring customers to your site. We also talk about content, with Dave giving great information on the minimum number of words you should have on certain pages and offering some suggestions for where to get ideas for what to write about.
Dave and I then move on to talking about the sometimes complicated relationship between property managers and owners. We discuss ways to handle the question of who's in charge of deciding when to fix things and how much to spend on them. We also talk quite a bit about pricing models and attracting the right owners.
If you haven't heard about Dave's own product, Rent Screener. This is an absolutely invaluable tool for property managers, and I highly recommend you try it out if you aren't already using it! Best of all, Dave is generously offering a 10% discount to listeners of this podcast. Tune in to learn how to get your discount!
Here's where you can find Dave: