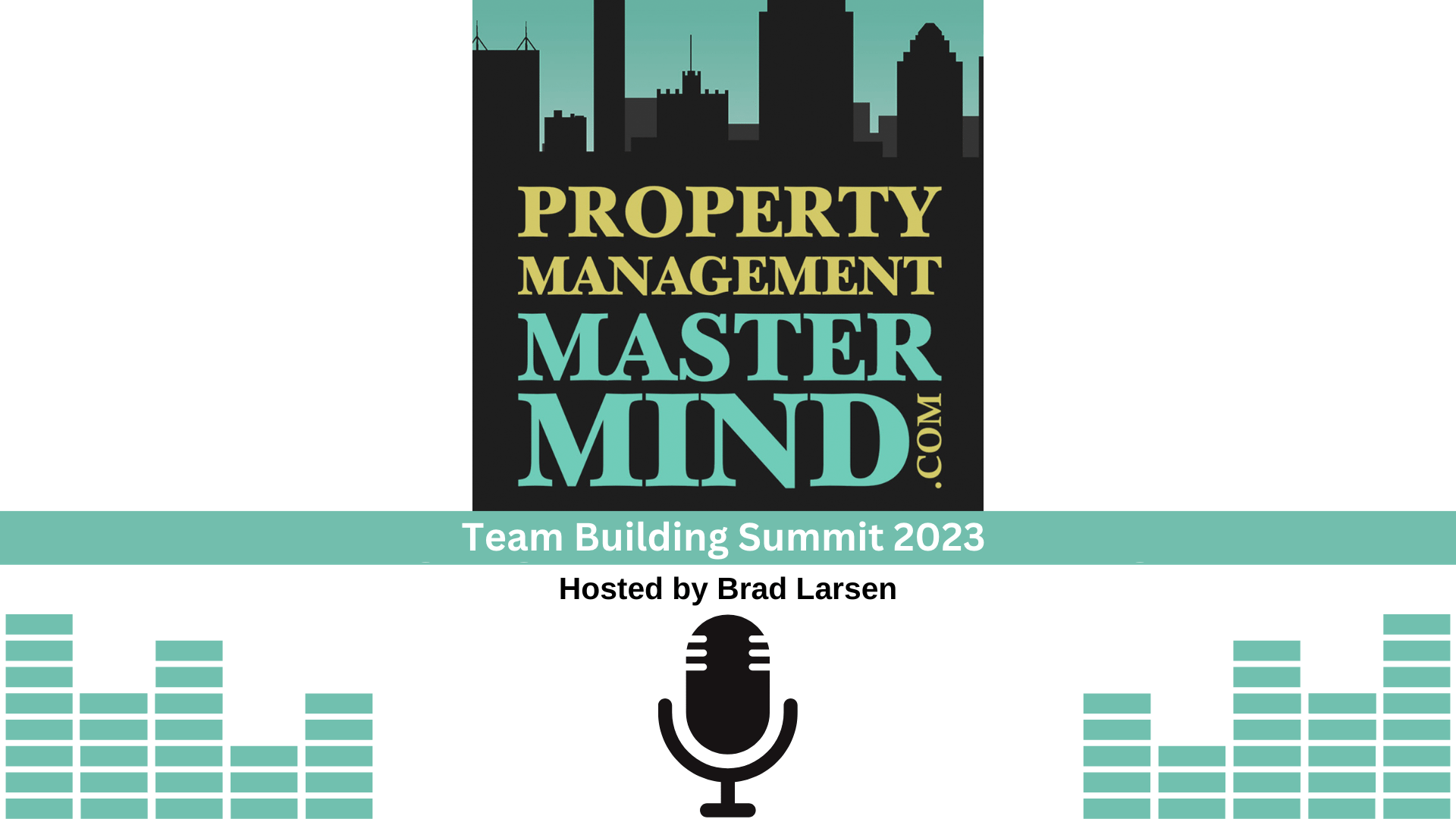 Are you ready to take your business to the next level? Join Jeff Cohn, of Elite Real Estate Systems, and Brad at this year's Team Building Summit 2023. Get the latest insights and strategies on how to build a cohesive team that excels. Learn what it takes to create new pillars of opportunity and boost your business' potential. Unlock the keys to success by attending this important event!
Tickets to the event can be found at Team Building Summit.
Connect with Brad's team at www.rentwerx.com!
This podcast is produced by Two Brothers Creative 2023.
Brad Larsen: Hey everybody. On today's episode, I've got Jeff Cohn with Elite Real Estate Systems. You're going to have a fantastic listen.
Announcer: Welcome to the Property Management Mastermind show with your host, Brad Larsen. Brad owns one of the fastest growing property management companies in San Antonio, Texas. This podcast is for property Managers Buy Property Managers. You'll hear from industry leading professionals on best practices, new ideas, success stories and lessons learned. This is your opportunity to learn about the latest industry buzz surrounding property management, as well as tips and strategies to improve your business.
Commercial: Do your phones ring too much at your office? Is hiring quality staff a challenge? Virtually Incredible has been making property management easier since 2010. How? Two ways. First, use our 24 over seven call center to answer your leasing calls and book all your showing appointments. Ask about having us help with your main line calls, emergency repair calls and see how our new owner hotline can help you add more doors. Second, visit our website to shop from our list of affordable and well-trained virtual assistants. You can hear their spoken English and hire them to start right away. Hiring staff has never been this easy, with low upfront costs and immediate placements available and have Virtually Incredible. We help you try before you buy once you know like and trust your new staff member, you can hire them direct and save a bundle. Connect with Logan Breen, a third-generation property manager, to schedule a consultation today. Visit the virtuallyincredible.com or call (561) 693-2648. Today, a quiet office is just one phone call away.
Commercial: Pest Share, a pest control amenity for your resident benefits program. Starting at just $5 per door, you can give your residents the pest control coverage they need. Pest Share will even pay for the expensive infestations like bedbugs and cockroaches and the debate over who pays for pest control. While Pest Share turns an expense into added revenue. For more information, check out their website at pestshare.com/property managers.
Brad Larsen: Welcome, everybody, to another edition of the Property Management Mastermind podcast. I'm your host, Brad Larsen. Now, today's guest Gang, I got to tell you, this is the one gent I found in this big world who talks more and talks faster than me. And I got to say, you you win the talk fast and put out the good content award more than anybody. So I'm kidding aside, this is Jeff Cohen, everybody. And Jeff is becoming a good friend of mine. He's out of the Omaha area and he runs elite real estate systems. And before I butcher any more of his introduction, I want to turn it over to him to give us a quick intro about who he is and what he does. And then we're going to get into the meat of this podcast, which you want to talk about what they do as an organization, how the audience of property managers can fit in. And we want to talk about their conference going on at the end of this month in Omaha, which I'll be attending, and I'll be speaking at Friday to the 2nd of June. So Jeff, please give us a few minutes of your time and introduce yourself.
Jeff Cohn: Awesome. Thank you, Brad. Appreciate coming on your show. I know you have an amazing audience. I actually just attended your event in Nashville. First time I'd ever been there. It was a beautiful event. I know you have another one coming up next year, and I'm planning on attending that as well. So as you said in your introduction, I am the owner and co-founder of Elite Real Estate Systems, where a coaching platform that does group coaching and one on one coaching across six verticals, including mortgage title insurance, property management, investing and real estate teams. I started by as being a real estate agent and started selling real estate in 2006 and 2011. I realized I didn't want to work with clients anymore buying and selling houses, but I did start a real estate team and wanted to teach other people to work with real people. Thinking about buying and selling houses. And our real estate team grew from 70 to over 700 real estate sales a year in just six years. It made us the fastest growing residential real estate team in history. It made us the number one real estate team in the world at Berkshire Hathaway in 2018. I exited the day to day sales in 2014 and started focusing on the other verticals. And so I started to recognize that if I controlled the real estate transaction, why wouldn't I also control the mortgage piece, the title piece, the insurance piece, the property management piece, and the investment piece. So we started building up all those verticals across Nebraska.
Jeff Cohn: I have over 100 residential agents in Nebraska, 11 loan officers, about 15 people that work at our property management company. I've got about 15 people at my investment company. We own about 200 doors worth over $25 million. And they're all single family multifamily in the Omaha metro area. But the biggest thing has been the team building podcast. So if you go out to any platform and search team building or go to the team building podcast with Jeff Cohn, we have over 6 million listens. We get about 10,000 downloads per episode. And it's all about teaching people how to run hybrid businesses across real estate Parallels like all the industries I just spoke to. So you mentioned the event we have coming up. Very excited to have you speaking at the event. Brad. Brad is going to be kicking off and heading up everything property management inside of our world. Just like he mentioned, I'm one of the fastest talkers. Brad is as well and content. Rich is everything. Anybody can talk. Talking is easy or comes easy to me. But talking where you're giving pearl after pearl after pearl, that's that's unique. And I watched Brad speak at his event a couple of weeks ago in Nashville. And you're a natural when it comes to PPM. You are nailing every slide. The content was was incredible. And we want you in front of our audience as well. And that's why we're going to be bringing you to Omaha. We also are excited Brad's going to be offering for the first time in history the property management group coaching starting July 1st, 2023.
Jeff Cohn: No one in the country offers coaching like Brad. I think he's the best fit for this role and he is super excited. It's going to be weekly on Fridays at noon Central Standard Time. So if you want to be the first into Brad's group starting July 1st, 2023, and you want to be the one of the first people to sign up email info at elite real estate systems.com in the subject heading put property management. And if you do that, we're going to give you 25% off for your first 12 months. Normally group coaching is $1,000 a month for the weekly group coaching call. You're going to get it for $750 for that first 12 month period. And all of our sessions are live so you can engage on Zoom and they are recorded and indexed. So if you miss a live call, you can go into our data lab library, search any topic you want specific to property management, and it's going to give you access to those recordings. Brad also will be available after providing the content for any type of Q&A you want every week. So instead of just getting to listen to him on a podcast for just 750 bucks a month, you now get to be part of Brad's world. He'll be your group coach and he's even going to offer one on one coaching. But I'll let him speak to that later today.
Brad Larsen: Good stuff, my man. If I could like do a a mic drop and then walk away. That was the best introduction ever. Love it. Now, here's what a couple things I think this is really spot on for for my audience. The property management world is we're often too wrapped up in our own little vertical of just property management only we've. Had several podcasts, several guests on the show where we talk about just expanding into one little thing of sales, because I've been beating the drum for years about, Hey, you got to be able to do sales along with property management because property management is actually the epicenter of everything that circles around it. Selling in the beginning, selling at the end, buying investor homes, more investor homes, keeping those homes in the inventory pocket, listings, sales circle around property management. And so this opportunity to get into other verticals, as you mentioned too, insurance from title to mortgage to sales. I mean, that's that's really, I think, very spot on for what we do because, for example, the sales is easy, but the other stuff that's a little bit harder that you guys are perfecting and being able to push out in a joint venture type of model is insurance, right? I think a lot of us would care to dabble in the insurance world. A lot of us would definitely care to dabble in the mortgage industry because they all go hand in hand title business.
Brad Larsen: I mean, we get so jealous of California. Here in Texas, it's like makes me green with envy because they can do title right In certain states. There's there's like an easy plug and play model for doing title. And if you understand that whole business model, you realize, geez, they're just they have insurance for insurance on top of insurance and they're charging you a set premium set by the state, right? So some of those things that we see around us are attractive. And this is you guys are basically putting it all together. And that's why I'm really excited to to head up the property management part of your division and become one of your team members. I think that's a huge opportunity and I want to bring the best I can to that organization. Now, I do want you to talk a little bit more about the team building summit coming up, because you mentioned it, but I don't think people really understand what an opportunity that is. And you know, we are three weeks, four weeks away, whatever we are. And I booked my my plane ticket and everything yesterday. So it's coming up there. Right. People got to get in really quick.
Jeff Cohn: So everybody goes to events, right? And we've been to hundreds, thousands of events where we sponsor, we speak, we keynote, etcetera. What makes our event so unique is we're not just speaking to one vertical. So I've been to events before that teach me how to sell real estate. I've been to events before that teach me how to create YouTube videos, VidCon, I've been to you name it, I've been to all of the events and they're very unique and specific, and I know the riches are in the niches, But one of the things that I think a lot of verticals have missed is all of the riches in all of the niches that run parallel to your vertical. And so what's unique about this event is if you're in property management, we're going to teach you how to launch your own insurance company where you have ownership in a joint venture, and it's something that's offering reoccurring revenue. No different than your book. We're going to teach you how to have ownership in a mortgage vertical, and you might not even be running it at somebody else, completely running it in your state, and you just get to take advantage of the ownership in it. So imagine if you got a percentage every time one of your tenants decides to go buy a home and they use your mortgage vertical and you're keeping a percentage as to what you own in that specific vertical through a joint venture.
Jeff Cohn: That's what our event is going to be talking about. So day one on June 1st, the event kicks off. I'm sorry, on May 31st, we have our welcome party from 7 to 9 p.m. a bunch of adult games. And I don't mean XXS version. Our games are going to be like adult. What is it? Jenga cat. We have bags. We have all sorts of stuff. We have drinks, appetizers. It's a really fun event the night before. So you get to meet the speakers and hang out and then all day. June 1st is team building. Now it is specific to building residential real estate teams, but the content is evergreen across all six verticals. So we're going to talk Culture Legion lead conversion, best practices. That would be specific to PM Day two. We're going to have subject matter experts, just like Brad speaking to all of the other verticals. We have the CEO of Windsor Mortgage. They write almost $1 billion a month in loans. He's coming down from Sioux Falls, South Dakota to keynote. Brad's going to be there, of course, one of the top names in the property management space. We have Cyrus Jaffrey. He owns one of the largest private independent insurance companies in the nation. He was the number one State Farm insurance agent in Nebraska for several years and then broke off to start an independent insurance company. So the idea is that day one is all team building content.
Jeff Cohn: Day two is all content surrounding the verticals. And the night of day one, we're going to have a big party. We have a private band coming and we rented out a speakeasy. All of the event is located at the Marriott Capital District in downtown Omaha, Nebraska. It's a new facility, so you'll go from your room to level two and you're at the event, you'll go to level one, and then you're at the party. You never have to leave the property if you don't want to. And what's nice about flying into Omaha, the airport is only five minutes from the Marriott, so you can Uber over. It's a super easy trip. Flights are cheap because we're in the middle of America. Just like the Counting Crows said, we are a two hour flight from pretty much anywhere in the country and the event location is less than $200 a night. So if you book your ticket before May 10th and you book your rooms before May 10th, we have a pre-negotiated rate with zero profit margin to us built in. It's less than $200 a night. So go to the team building summit.com and go get your tickets reserved today. Go get your hotel block reserved today at the discounted price. Take advantage of that and we promise you it's not going to be a miss. We. So much content, it's going to be so valuable, you won't regret it.
Brad Larsen: Hey, everyone. We wanted to introduce the RentWerx Summit going on December 7th and eighth, 2023, in San Antonio, Texas. We're only allowing six attendees to this event, two full days of all the inside outside training that RentWerx puts on with biz dev mastermind, our CPA, our maintenance team, our operations, our leasing, all of that two full days in San Antonio. Visit RWmastermind.com.
Brad Larsen: You know, we forgot to bring up Clint Bartlett. He's doing a presentation about investing. And I know the stuff you talked about was gold, but I am also excited about to hear what he has to say because he is focusing on single family home purchasing and holding, and that is our main client as property managers and one we should be getting more into that space. Honestly, I've said this before on my podcast, I've told it to you and and Clinton person like, I need to get back to buying more homes because I did a monopoly thing where I sold all my rental homes and I purchased a commercial building. And so that's our office. But I want to get back into buying more homes, not in only in addition to understanding our clients a little bit better, like if we understand what Clint, what his buy box is doing and if we understand what the hot buttons are with those investors that we want to manage, we can go out and provide them a better service and attract them to hire us as property managers.
Brad Larsen: So it's going to be interesting to hear from him. And I want to bring that up because, you know, you talk about the other verticals and as soon as you say mortgage to a property management company owner, you're like, God dang, that's just way overwhelming. I don't want to touch mortgage. I'm serious. This is this is how I would think and a lot of my peers would think and I'm not putting words in their head, but I'm just saying some of those things like title, Oh my God, have you ever looked into a title company and the ownership structure and the capital it takes and all the other junk? It's overwhelming to the point of I'm just going to put my head down and do real estate, right? Just do property management, real estate sales.
Jeff Cohn: And I'm glad you brought that up. And here's the beauty. Everything I've ever done, I've done with leverage. I've always tried to fire myself from my highest income producing activity. And then that time that I gave myself access to, I tried to replace with even higher income producing activity. So you brought up Clint Bartlett. Clint Bartlett is the implementer. I'm the rocket fuel of our investment arm that has acquired over $25 million worth of doors since 2014. Clint was a full time line manager. He actually oversaw all of the factories or a lot of the factories for ConAgra Foods. He also worked at Frito-Lay in Rancho Cucamonga, California. So he was overseeing all these different operations, making really good salary with great benefits, the golden handcuffs, so to speak. And I was selling residential real estate. And he and I are best friends. We grew up together in Omaha. And I said to Clint, Hey, what if we started just buying up single family doors? My real estate team comes across houses all the time where people need to sell really fast. They're hoarders. A family member dies, they just want to sell cash quick, and we can buy them at 30 to 50% below market. So he starts doing it kind of as a hobby. He and I do it on the weekends and we're flipping some and wholesaling some and wholesaling some and holding some. And within about six months we had more deals in pending that were going to produce profit than what he earned in a year.
Jeff Cohn: And he's like, I'm quitting my job. And this was while ConAgra was doing a bunch of layoffs. They're moving their headquarters to Chicago. He quits his job today. We're acquiring around six doors a month. We keep a third of our doors as long term holds. We keep a third of our doors to cover our overhead expenses. And we keep we sell off a third of our doors to cover our debt obligation taxes and other expenses. So our intention is to keep a third as long term rentals. And we're at almost 200 doors today. Clint's going to talk about that entire process. But back to your point of people being scared, I'm not doing anything other than providing him the platform to be able to perform using my, you know, personal financial statement, to be able to raise capital. He gets to take advantage of discounts at our title company that I'm the owner of. And so the same thing would stand true for anyone in PM. If you're thinking about getting involved in property or sorry, in mortgage or insurance or in an investment vertical, you don't have to be the person going out and doing all of the work. Go out and partner with someone that's doing all the work and buy into an already existing joint venture. That's proven itself.
Jeff Cohn: And that's the entire idea behind elite real estate Systems Genius, that in time we will have a mortgage joint venture in all 50 states, insurance in 45 states, title in 31 states, and then property management and investment portfolios in all 50 states. And we'll have a number of them within each state so that we can partner with people like your audience, Brad, who already have, and they have thousands of people in their list and will share that data and will cross sell the other verticals. And this is the big miss when people roll their eyes and go, Well, I'm just in property management, my response is, I'm sorry, That'd be like having a convenience store that only sells packs of gum. Why wouldn't you also offer candy bars and apples and bananas and water and all the other things that a convenience store sells when you're in, you're just selling packs of gum. There's a lot of other products that people might take advantage of within the lifespan of that lead because right now they're they're renting your door. But in ten years from now, they're buying their starter house. And then in 20 years from now, they're buying investment properties and they're refinancing their loans and they need home and auto insurance. They need renters insurance, whole life term life disability. Here I am going, but the options are limitless. So get in all of the verticals when you can.
Brad Larsen: And I want you to talk a little bit to the audience. How far along are you in this process? This is not in theory. You did not set this up yesterday. I mean, you have really taken this full bore with all kinds of attorneys, all kinds of documents that you've gone through. You giggle, but you rattled off the stats and you got that.
Jeff Cohn: Down the rabbit hole. Yeah. So we launched all of this. What we're talking about, we've been. Doing since 2014, 2015 and running it across the state of Nebraska. So we had the option of do we want to create a wall, the Great Wall of China around Nebraska, and we just build Nebraska and dominate here. And that would have worked great and would have made everybody tons of money. The problem I had was just like you, Brad, is I'm an influencer in the residential real estate space right now. A lot of people look towards me and say, Hey, I want to do it how Jeff does it. So I did everything I could in group coaching and on my podcast to teach people to do it how I do it. Well, you can all imagine how a majority of the people tried to do it the way I'm doing it, and they get stuck in one role and they can't get into another vertical or they can't fire themselves from going out on certain listing presentations or whatever that active role is. And so instead of waiting for everybody to catch up and be able to do everything that we're doing, we said, let us let us just partner with you and we'll do it for you. We'll do it with you, I should say. But give us access to the data, feed the vertical, and we'll go and operate that vertical for you. So like I mentioned, we own a Keller Williams franchise in Nebraska. We have over 100 agents. We're in about 6 or 7 cities across the state. We have over ten loan officers, 15 or 20 insurance agents. And everything we've built is is headquartered in Nebraska, but can work virtually across the country. And some specific states do require brick and mortars. And in those states, we will have a brick and mortar. But a lot of this can be done. Consumer direct.
Brad Larsen: Yeah, a lot of that you can learn at the conference, not so much watching the presentations, but really just kind of the networking side because I mean, we talk a lot about how this is going to work, potentially all these different platforms, but then you start to get overwhelmed. So if anybody can attend the conference last minute, that's really kind of where you get it all sorted out. I've always been a fan of telling people, you know, go spend time with the vendors. Like if you run a figure something out In our space, we have advertising vendors that go to my conference and sponsor. They go to to other industry conferences and sponsor and you really want to figure out how to do something. Go talk to each one of them and say, okay, what is this? What is this remote showing software that you offer? I don't understand all that and they'll coach you through it. The same thing. All that is happening in between the lines at the conference. It's not a formal part of it.
Jeff Cohn: I can't imagine. I can't believe how often people don't go to the vendors. I actually choose to go see the vendors when everyone's eating their lunch or when everybody's off doing something else. So I get more attention. You can learn so much if you walk a whole vendor room. I go up to each table and I actually did this in Nashville. I met some of the companies that you actually, I think have ownership in, but I was able to go up to each table and I'd say, I have one minute, give me your elevator speech. And then of course, I have more than one minute. So if I find their product interesting, I'll stay and let them talk as long as they want. And I ended up hitting it off with Rent Vine. Rediscover What's the third one that's coming to our event that's based out of Omaha. I wanted to bring Anna Quinn.
Brad Larsen: Yeah, it's Anna. Thank you. Jeremy and Gwen Aspen.
Jeff Cohn: Yeah. Members. They have over 1000 remote team members. They'll actually be a sponsor at our event and two brothers. So the, the company that's actually putting on the podcast for us is based out of Omaha, Nebraska. And I actually got to go to their studio yesterday and they'll be a sponsor at our team building summit and they're going to have their podcast station set up. So for anybody that wants to learn more about how they use podcasting and would want to be a guest on Brad's podcast, they'll actually physically be at the event in Omaha here at the end of May. So I can't tell you how valuable those sponsors are. I'm glad you brought that up.
Brad Larsen: Brad Yeah, yeah. And the two brothers guys, they they've been a big part of our business development faction as well. So we are fully ingrained in what they do as far as podcasting. So I appreciate them and what they're doing. I'll be looking forward to seeing them in Omaha again. So man, we've talked quite a bit about just what's going on with you and I'm excited to get up there and kind of learn a bit more about some of the other verticals, of course, and then we can continue to develop this this coaching platform that you've put together and I'm super excited to be a part of it. So if you could just quickly wrap up, you know, where to get in touch with you kind of best resources, emails, websites.
Jeff Cohn: Yeah, sure. If you guys want to follow me in my world Instagram, it's just at Jeff Mchone J.F. M as in Marco H. N. If you want more information and free stuff, if you're in the real estate space or any of these verticals, we give out a lot of free content go to grow with S.com. If you want more information about the upcoming event that Brad's going to be keynoting at and all the other verticals will be there, it's the team building summit.com. And then the last piece is if you want to get in the beta group, that is going to be part of Brad's group coaching platform. That's every Friday at noon Central. We're going to be doing it on Zoom. They're all recorded. If you can't come in live, you can watch the recordings. It's okay. You also get to engage with Brad for 30 minutes of Q&A after he's done delivering the content from noon to 1230. He'll do Q&A from 1230 to 1 p.m., which to me is invaluable to have access to you, Brad, on a weekly basis, if you have an issue in your business and you want to go, bring that question to Brad, you can if you want to get to be a part of that beta group, you can go right now, send an email to info at elite real estate systems.com. And to get 250 off a month for 12 months, making the total only 750 bucks a month in the subject of the email. Just put property management and we'll be sure that when we start taking registrations on the website to join Brad's class that launches the first Friday of July, we'll make sure that you guys get an email with all the information about it and can sign up.
Brad Larsen: Good stuff, man. Appreciate you coming on. Look forward to speaking at your event here at the end of this month and hope a lot of the listeners can jump in and attend as best they can.
Commercial: Imagine a world where the phone doesn't ring, but Tennant leads still get pre-qualified and scheduled, where in-person showings get coordinated automatically in real time, 24 hours a day, seven days a week, where occupants and owners are automatically notified of showings and leasing reports. Or imagine, no one has to show your rentals and they get leased faster than ever. Safely and securely. That's the world of Tennant Turner. Come learn more about our beautiful scheduling software and world class customer support. Call us. (888) 976-4638 or visit www.TenantTurner.com
Announcer: This has been a podcast episode by Property Management productions.com. Be sure to subscribe to our podcast. Leave us feedback and come back for our next episode.