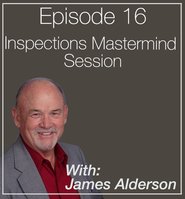 Today's show is sponsored by Marc Cunningham of Grace Property Management. Marc has created some amazing products for property management companies, which we can say firsthand as we've implemented his systems here. Visit their website and try out their products! To get a 10% discount on any of Marc's products, use the promo code "Brad"!
Don't miss this insightful and value-packed conversation with James Alderson from OnSight PROS, an inspection company based in Texas but with locations in 14 cities in 7 states. We use them for third-party inspections, which (as we discuss in this episode) offer neutrality and reassurance when it comes to issues such as security deposits.
James isn't only the founder of OnSight PROS; he and his wife are also property managers in the San Antonio, Texas area. In fact, James started OnSight PROS to fill a need of his own within his property management company. It wasn't originally meant to be a business; James just wanted to get inspections off his plate. The company's services were so in-demand, though, that it has now blossomed across the country.
In this conversation, James and I talk about various aspects of inspections. We explore why they're so important, and several reasons that it's better to have them done by a third-party company than to do them in-house (which we temporarily tried before returning to using OnSight PROS). James and I go into a fair amount of detail about using OnSight PROS for renewals and periodic inspections, discussing why it's so important to do these inspections properly.
Of course, we all want to know how much things cost, so we talk about that (and about how to defer these costs to the tenant or owner). We offer some advice and tips on what to do if you don't yet have a branch of OnSight PROS near you. Finally, we also spend a few fun minutes discussing technology and how we anticipate it will impact the property inspection industry in the relatively near future.
Here's where you can find James: