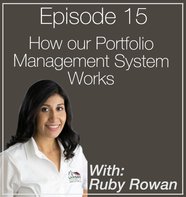 Today's show is sponsored by Marc Cunningham of Grace Property Management. Marc has created some amazing products for property management companies, which we can say firsthand as we've implemented his systems here. Visit their website and try out their products! To get a 10% discount on any of Marc's products, use the promo code "Brad"!
I'm delighted to bring you the brilliant, talented Ruby Rowan as today's guest. I know Ruby well, because she's a portfolio manager with my company here in San Antonio. She started with us as a leasing agent around three years ago, but we put her through real estate school, and now she's one of our portfolio managers.
Lately, I've been getting a lot of questions about how our portfolio management system works. While I'll contribute to the conversation, I thought the bulk of answering should go to someone who's intimately familiar with the system from the inside out, since it's what she does every day at work. In this episode, Ruby will go into depth about how she manages 181 homes with our company. She'll share the down and dirty of how things work, how we break up the division of labor here, how she's compensated (and why being paid a percentage instead of straight salary is a great system), and how her work/life balance is maintained.
If you've ever wondered about how our portfolio management system works, or have considered implementing a similar system yourself, this is the episode for you! Tune in to to learn what works for us, where we've made mistakes, and what Ruby sees as the strengths of our system.
Here's where you can find Ruby: