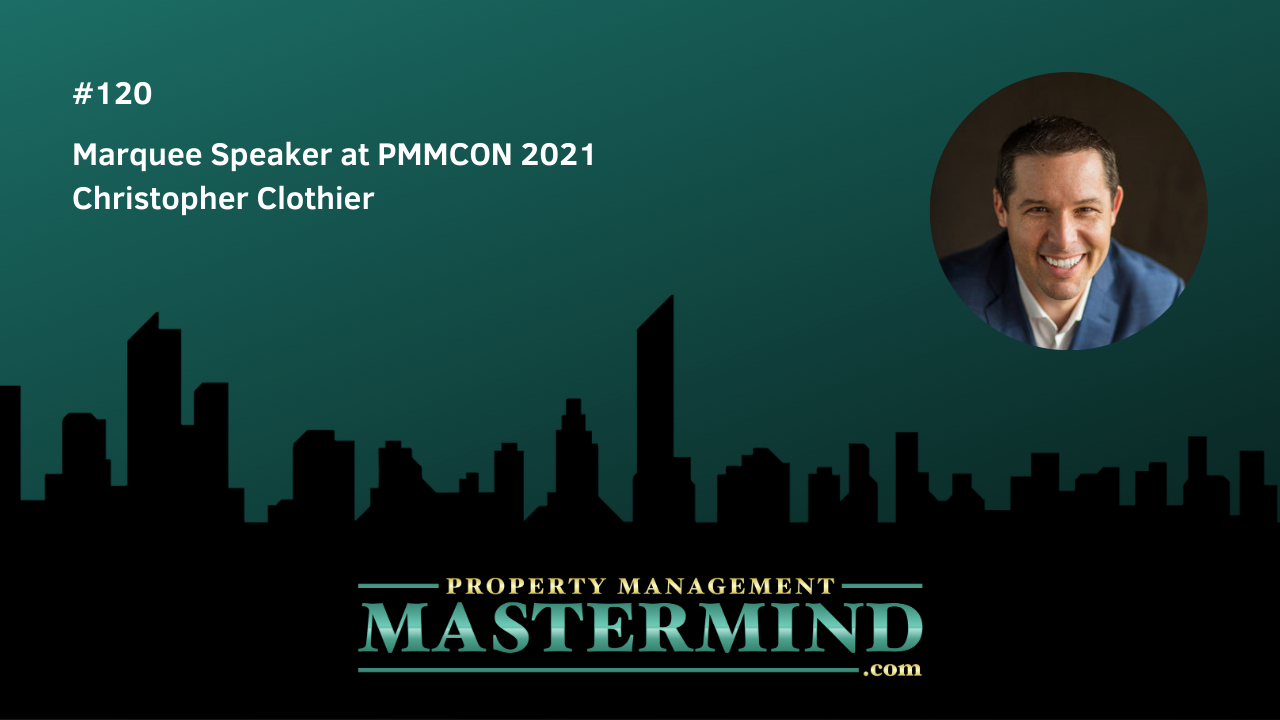 In this episode of Property Management Mastermind Show, your host Brad Larsen and his guest Christopher Clothier discuss the importance of customer service in the property management industry, what makes a property management company such as Christopher's effective, how Christopher's company came out stronger as a result of the COVID-19 pandemic, and so much more!
Christopher will be speaking at the Property Management Mastermind Conference (PPMCON) the afternoon of Friday, May 21st. He is a partner of a family-owned company called REI Nation that has been around for almost twenty years, starting in 2003 as a company that would buy, renovate, and sell property to investors who wanted to own said pieces of property on a long-term basis, and they now manage properties in eleven different cities across the southeastern part of the United States. What's even more is that they expect to exceed 7,000 properties this year!
Despite all of his impressive success, however, Chris is nothing if not humble. He credits people who have taught him along the way such as his father. He also announces that he still feels that he has a lot to learn and can't wait to listen to and learn from other attendees of the upcoming PMMCON! Be sure to check out his wonderful book, The Turnkey Revolution!
**Announcement** The Property Management Mastermind Conference is May 19-21 at the Gaylord Resort in Grapevine, TX. For more information, go to https://pmmcon.com.
In this episode:
[2:30] – Welcome to the podcast, Christopher!
[2:46] – Chris shares his background and experience with us.
[5:46] – Brad enthuses over Christopher's upcoming presentation at PMMCON.
[7:13] – Chris closes further in on how his company is a customer service company which makes effective management crucial.
[8:17] – Chris lists off the basics of what makes his company a good company – great communication and accountability and making sure that they follow up on promises and commitments.
[10:29] – We learn how the COVID-19 pandemic has affected and changed REI Nation, as well as how the company endured despite the uncertainty and difficulty.
[13:40] – Chris reveals that a lot of the rules put in place because of the pandemic – such as contactless arrangements – were already being done by the company because of how expansive across regions that they were.
[16:01] – Brad compliments Chris on how impressive the success that he maintained during the pandemic is.
[17:27] – The COVID-19 pandemic allowed Chris and his company to be proactive rather than reactive.
[19:55] – Brad shifts the conversation toward the upcoming PMMCON, and Chris shares that he is most excited about listening to and learning from others at the conference.
[22:19] – We hear ways that we can get in touch with Chris outside of the conference.
[23:09] – Chris discusses and describes the premise of his book, The Turnkey Revolution.
[25:02] – Thank you for being on the podcast, Chris!
Find Christopher:
The Turnkey Revolution: How to Passively Build Your Real Estate Portfolio for More Income, Freedom, and Peace of Mind
Links and Resources:
Property Management Mastermind

PPMCON
Property Management Mastermind Group on Facebook