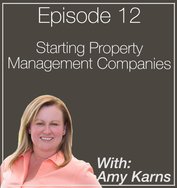 Amy Karns, who is intimately familiar with various aspects of property management thanks to having bought, sold, and started property management companies.
She got her introduction to property management in San Antonio, where she bought a company over the course of five years by purchasing 20% a year (while the previous owners played less and less of a role each year). Amy built that company up from 90 doors to 225 doors over the 10 years that she ran it.
Eventually, an offer from another company interested in buying hers got her interested in the possibility of selling. While the original offer wasn't one that would work for her, she soon found the right buyer and sold her company, as she describes in some detail here.
After that, Amy did what we all dream about: moved to a new market and started from scratch using all the lessons she had learned and her vast, valuable previous experience. As she explains in our conversation, her goal is to manage 50 properties from home and make the same income as she did from 250 properties.
You'll hear how she plans to do this, as well as how she has turned unaccompanied showing systems into a giant revenue generator. She talks about the incredible value in doing everything online, and how her current business lets her work from Punta Cana.
Links and Resources: