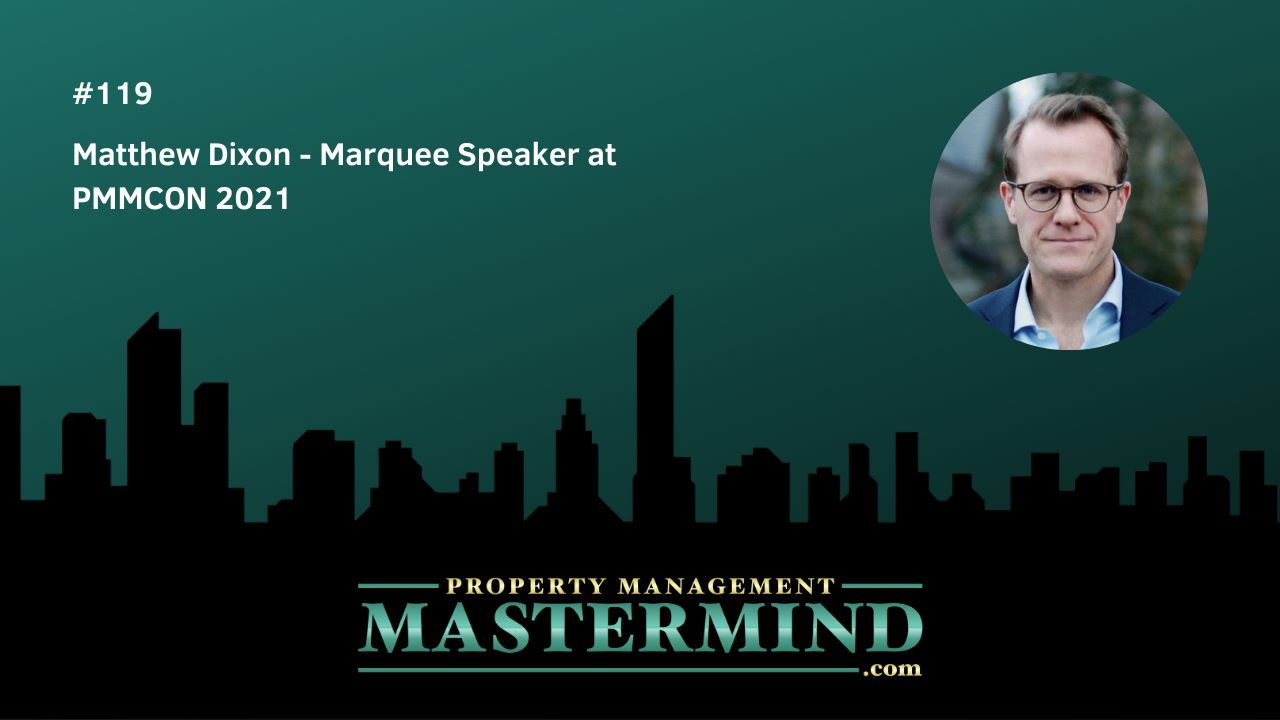 Today your host Brad Larsen and his guest Matthew Dixon discuss changing the mindset around the customer experience, the books he's written, and what he will be speaking about at the Property Management Mastermind Conference, plus much more on this episode of the Property Management Mastermind Show.
Matt is the Marquee Speaker at PMMCON and has written three books, The Effortless Experience: Conquering The New Battleground For Customer Loyalty, The Challenger Sale: Taking Control of The Customer Conversation, and Machine Learning in Finance: From Theory to Practice. Matt has a Ph.D. in Political Economy and has studied Technology Transfer in the Aerotech Industry, but decided he wanted to take skills and focus on big companies' and their big problems and help them grow more effectively.
Listen, as Matt shares the research he did into customer service and what makes the customer happy. He also talks about the two big takeaways he got from his research, which were surprising. Matt believes that making the customer experience effortless goes, and he will dive deeper into this concept at the conference.
**Announcement** The Property Management Mastermind Conference is May 19-21 at the Gaylord Resort in Grapevine, TX. For more information, go to PMMCon.
In this episode:
[02:52] Welcome to the show, Matt!
[03:45] Matt shares his background and what he brings to the table.
[07:07] Matt speaks about property management, getting renewals, and keeping the properties they have.
[08:55] Brad shares some differences in the property management industry in the different markets.
[09:45] Matt discusses when it's good to delight customers and create the raving fan and when it's not.
[11:22] In moments of truth, it's not enough to fix the problem. You have to do more than what the customer expects; you create a customer for life when you do.
[14:14] Matt shares the two big takeaways from his research on exceeding customer expectations.
[17:36] The key thing is that you have limited resources; delight your customers where it makes the most sense.
[19:22] Brad shares some ways you can make the customer service experience effortless.
[22:38] The actual value of what Matt has done is that they could identify companies that were doing things differently.
[25:04] Look for Matt at PMMCon in May!
[26:30] Thank you for being on the show!


Find Matt:
Links and Resources:
Property Management Mastermind
Property Management Mastermind Group on Facebook
(619) 988-6708 (Allison DiSarro from Seacoast Commerce Bank)
NARPM Southern States Conference
National Apartment Association